Relution Server Release 5.2
Info Box
From now on, the most important device information is clearly displayed in an Info Box. The following information is displayed compactly at a glance:
Device name

Ownership

Device user

Compliance status

Pending actions

Device status

Rules

Device type

Operating system version

Serial number

Last connection

Access authorization
In addition, important actions are offered with one click:
Change device user
Update device details
Send message to device
Lock device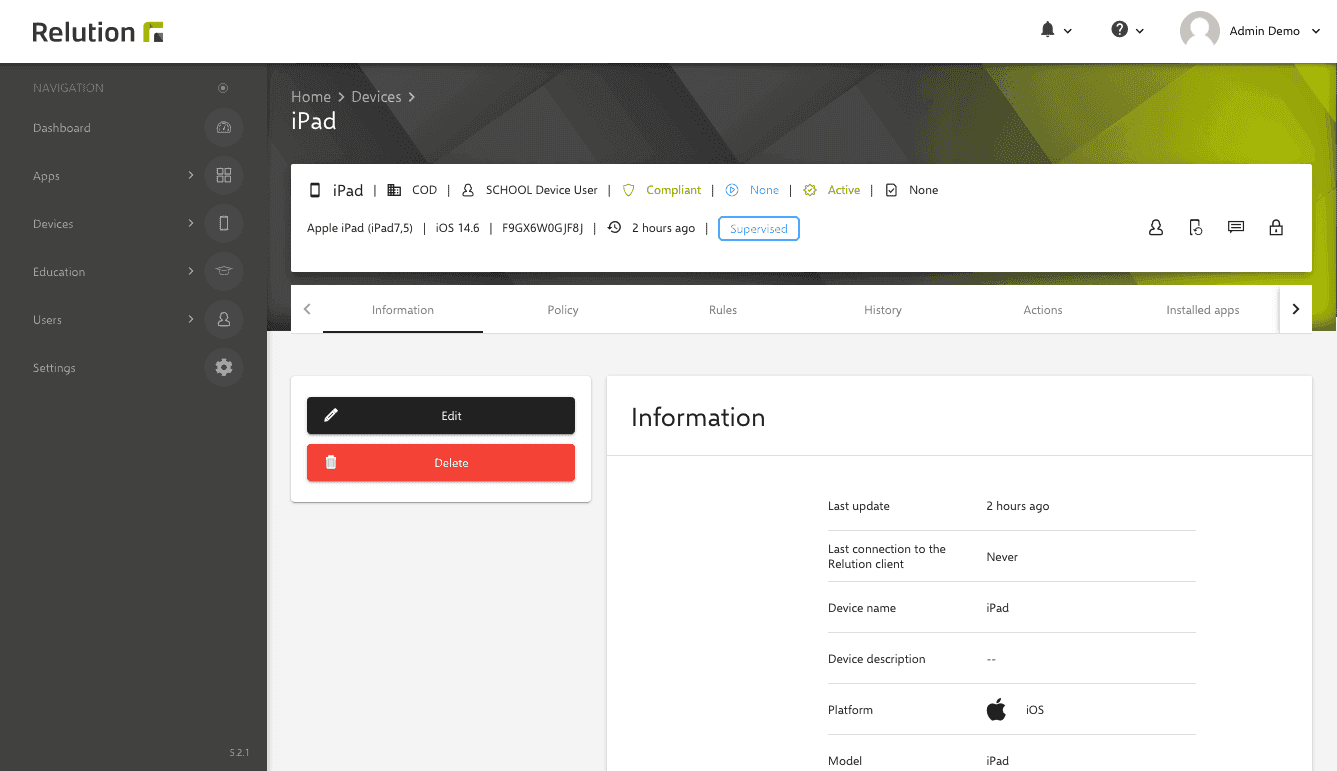 The Info Box also provides relevant information and the most important actions in the case of guidelines:
Publish policy
Reset policy
Edit policy
Edit automatic assignment
Delete policy
The Info Box makes the overview heard and simplifies the administration of devices and policies.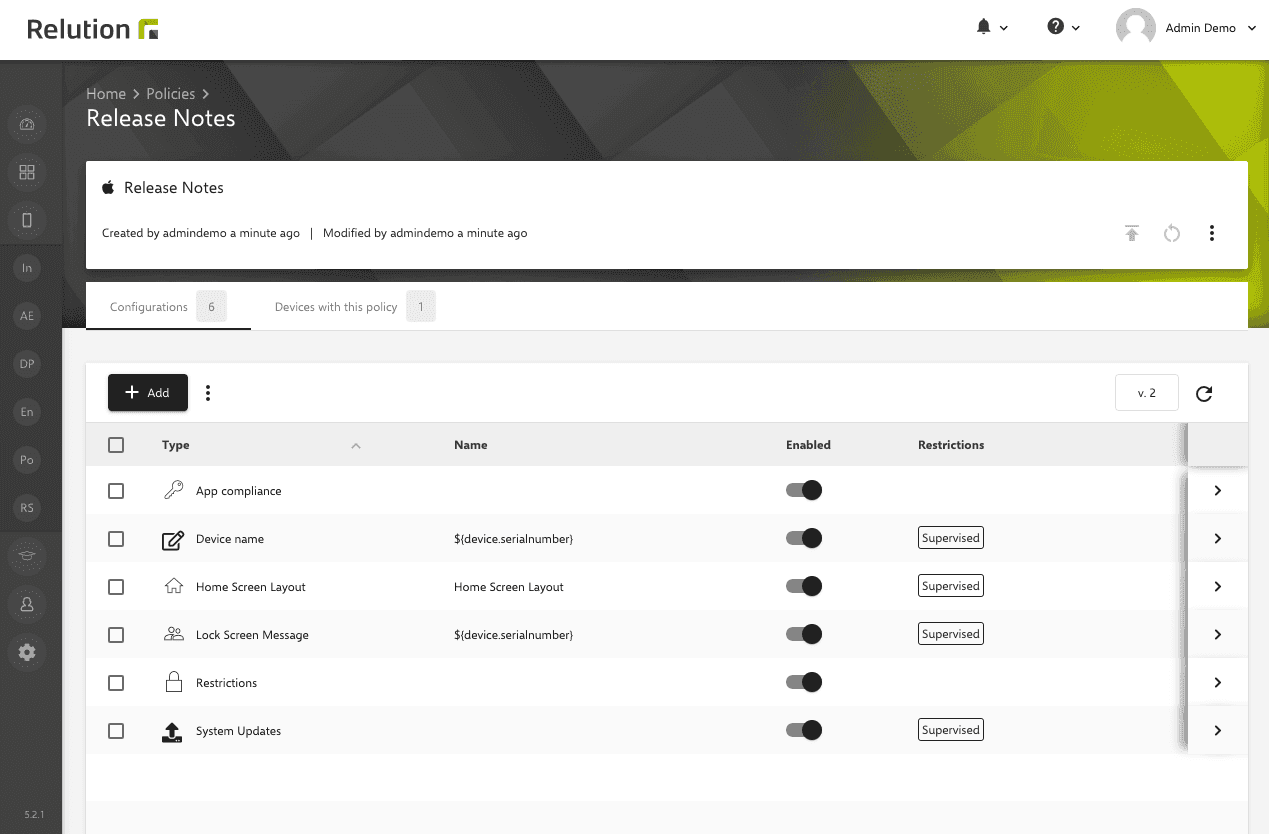 Additional Device Information
Relution 5.2 allows you to define and activate additional user-defined attributes via the settings. This allows device details to be flexibly extended for a wide variety of use cases. For example, it is conceivable to maintain an inventory number, a location or even a date on which the warranty expires for the device. The logic was implemented dynamically so that a wide range of scenarios can be covered. The additional attributes can also be used in individual policy configurations. This enables, among other things, optimized lock screen messages for iOS devices.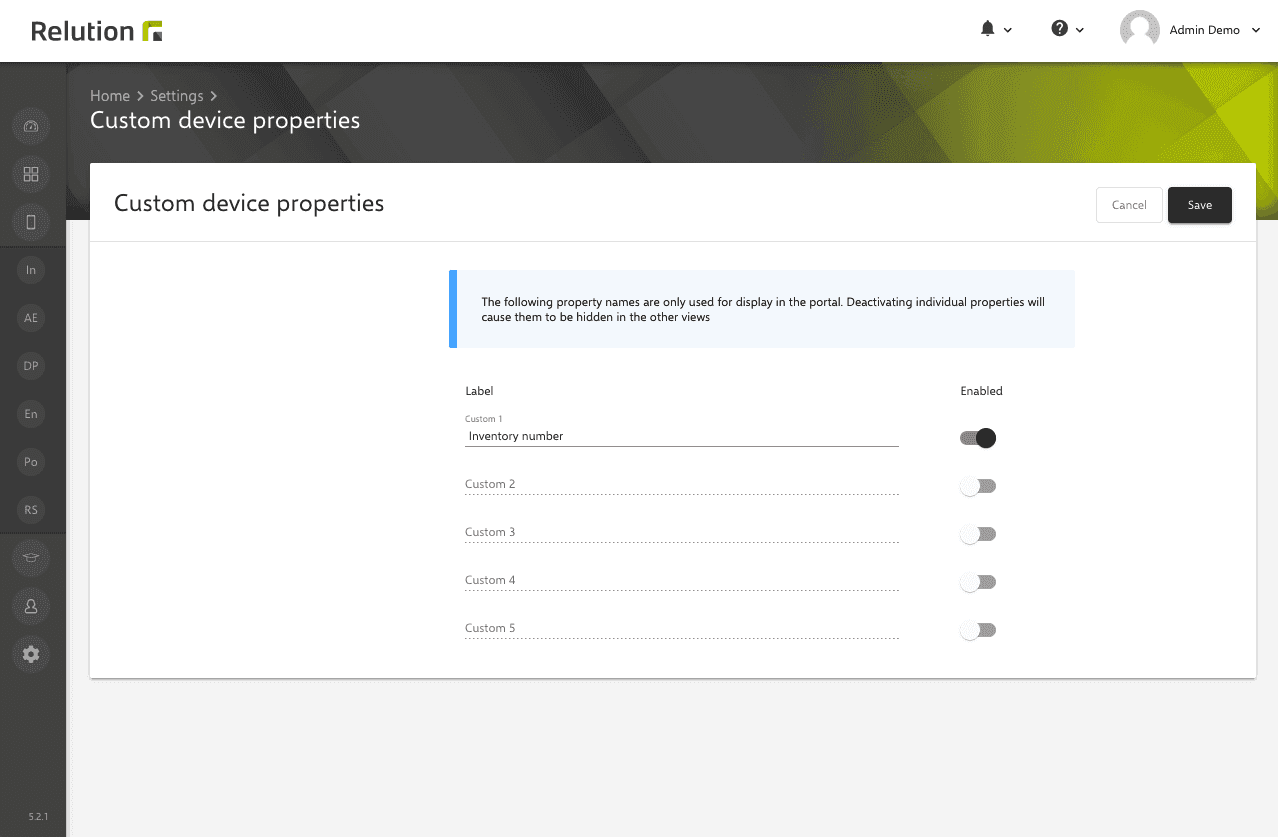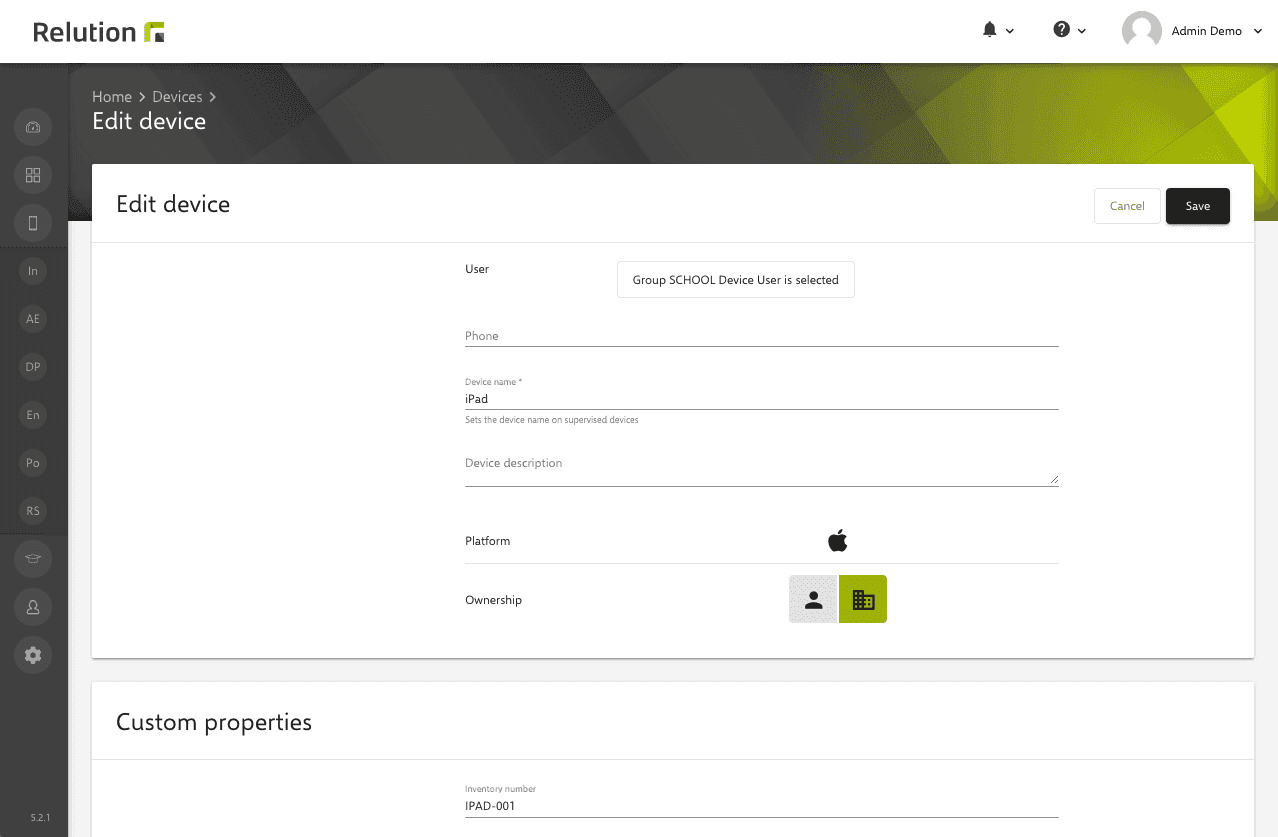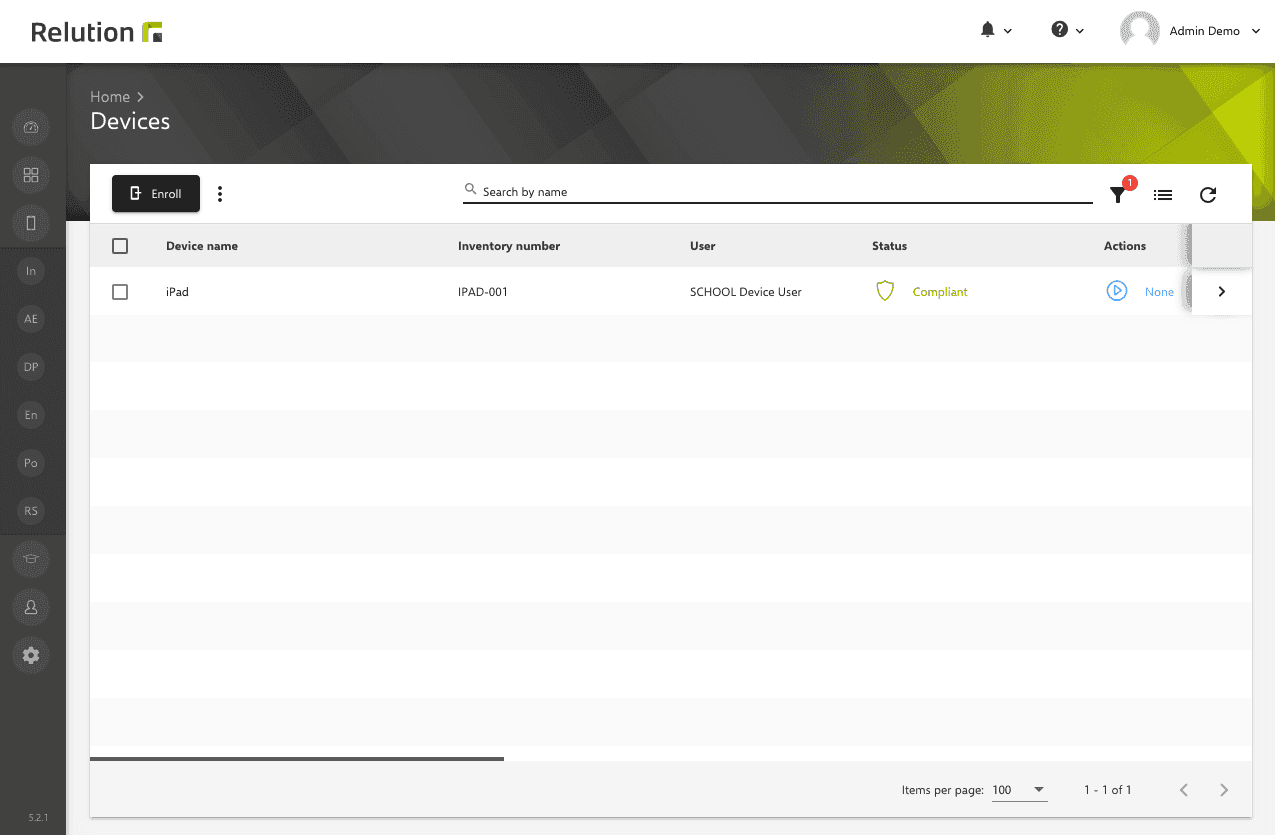 Device Off-time
With the optimized device lockout time for iOS devices, devices are no longer put into "Lost" mode, but instead all apps except settings are hidden via a whitelist. This ensures that the devices cannot be used for apps or accessing the Internet outside of defined usage periods. Relution thus provides a way to ensure that digital devices can also be recovered.
Device Platform
In order to better differentiate between classic management (Android Legacy) and Android Enterprise, the Android Enterprise platform has been separated out with the characteristics Work Profile and Fully Managed Device.
When creating policies, a distinction can thus be made between the Android Legacy and Android Enterprise platforms. When maintaining configurations, this ensures that only configurations compatible with the defined platform can be selected.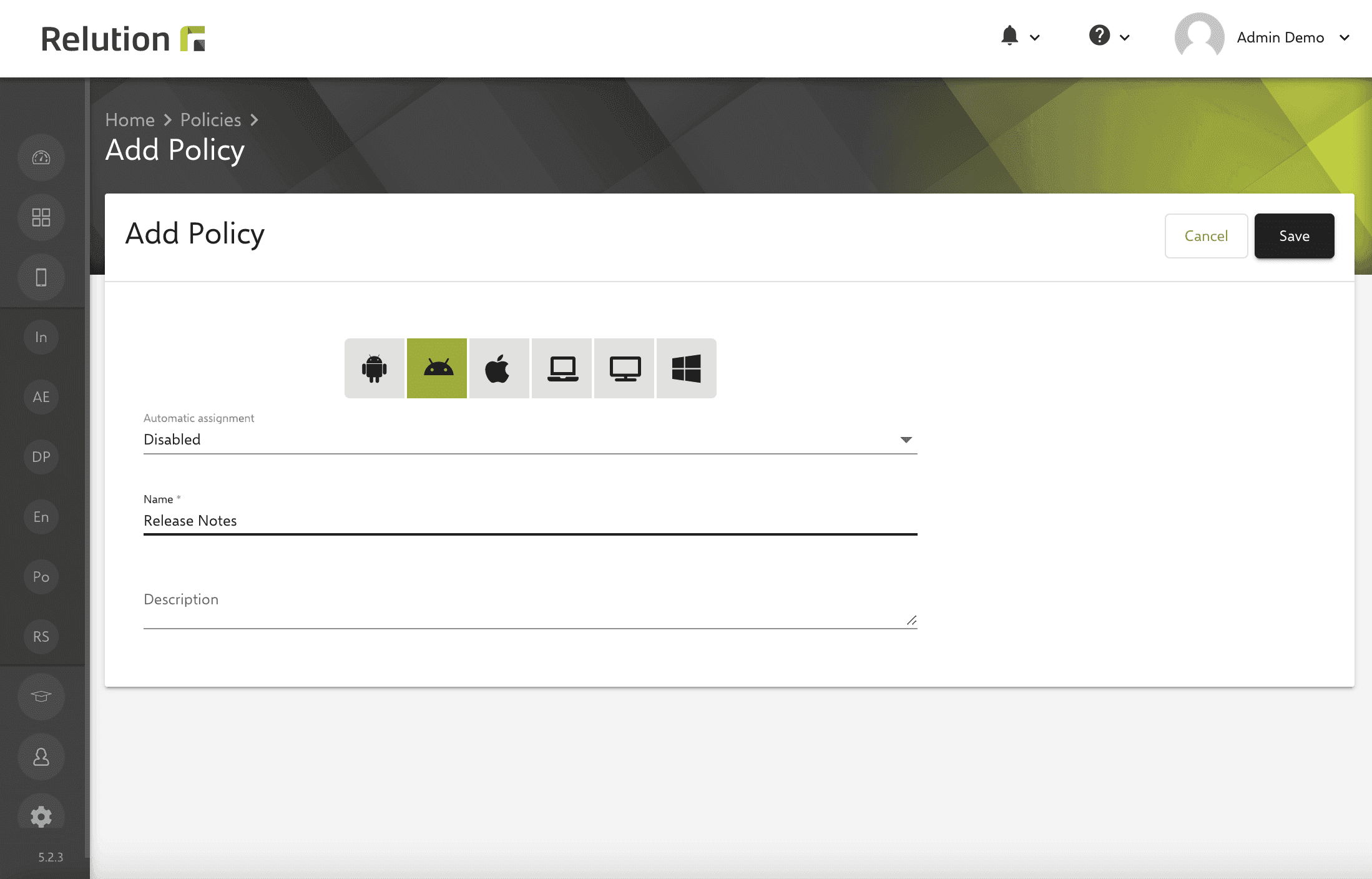 Existing Android policies are automatically migrated to the correct platform by the update. If an existing policy cannot be determined with certainty whether it is a classic Android or an Android Enterprise policy, the policy will be cloned and may be visible twice in the portal after the update to Relution 5.2.
For more information on setting up Android Enterprise, see insight Android Enterprise enrollment.
Manage System Updates
With the new configuration "Manage system updates", the installation of operating system updates can now also be configured for Android Enterprise devices. Android Enterprise offers the following options for selection by default:
Unspecified (Uses the device's default system management).
Automatic (Starts an update as soon as it is available).
Maintenance Window (Install system updates within a defined maintenance window).
Defer (Allows a delay of up to 30 days)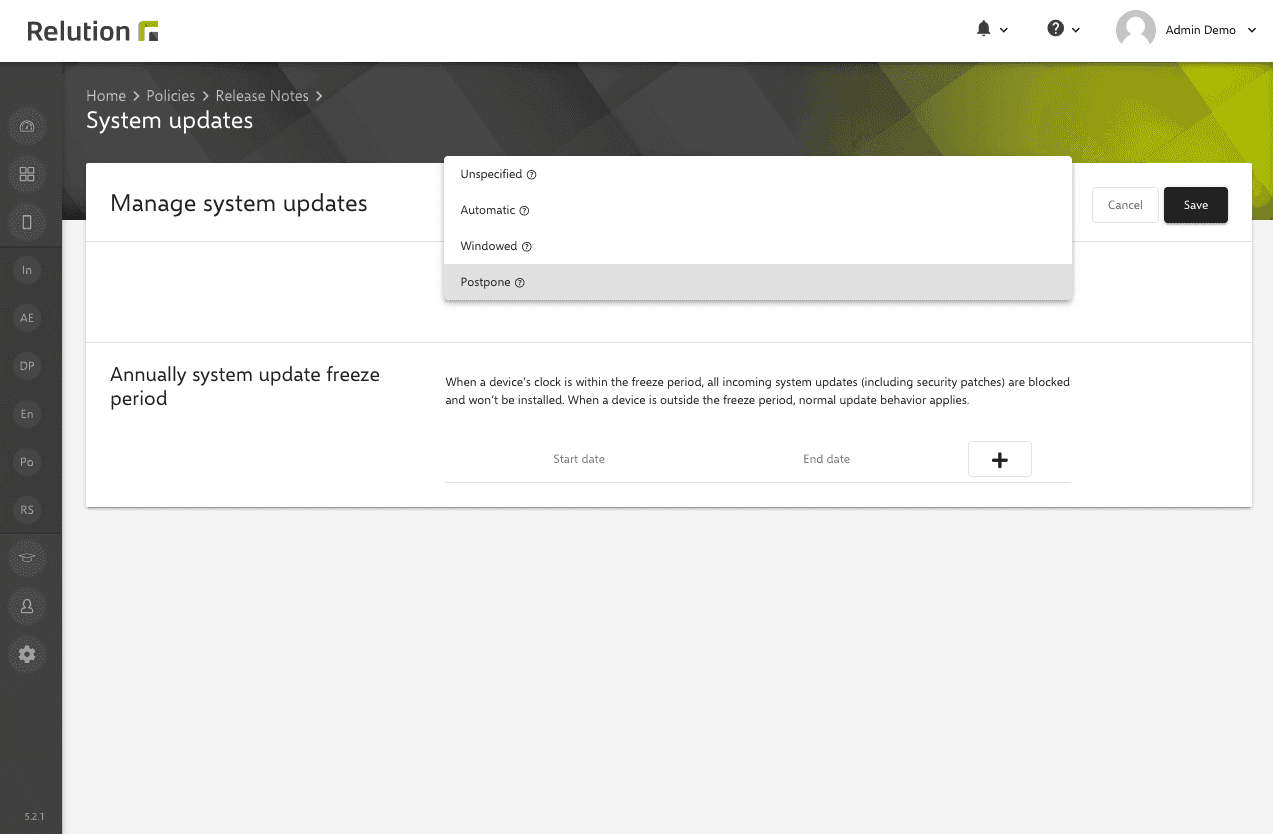 Managed Google Play Store
The optimized integration of the Managed Google Play Store ensures that public apps are either linked into the Relution Apps Store first or that apps can be selected directly from the Managed Google Play Store in a policy. Additionally, web links or .apk files can also be maintained in the Managed Google Play Store and associated with a device via a policy.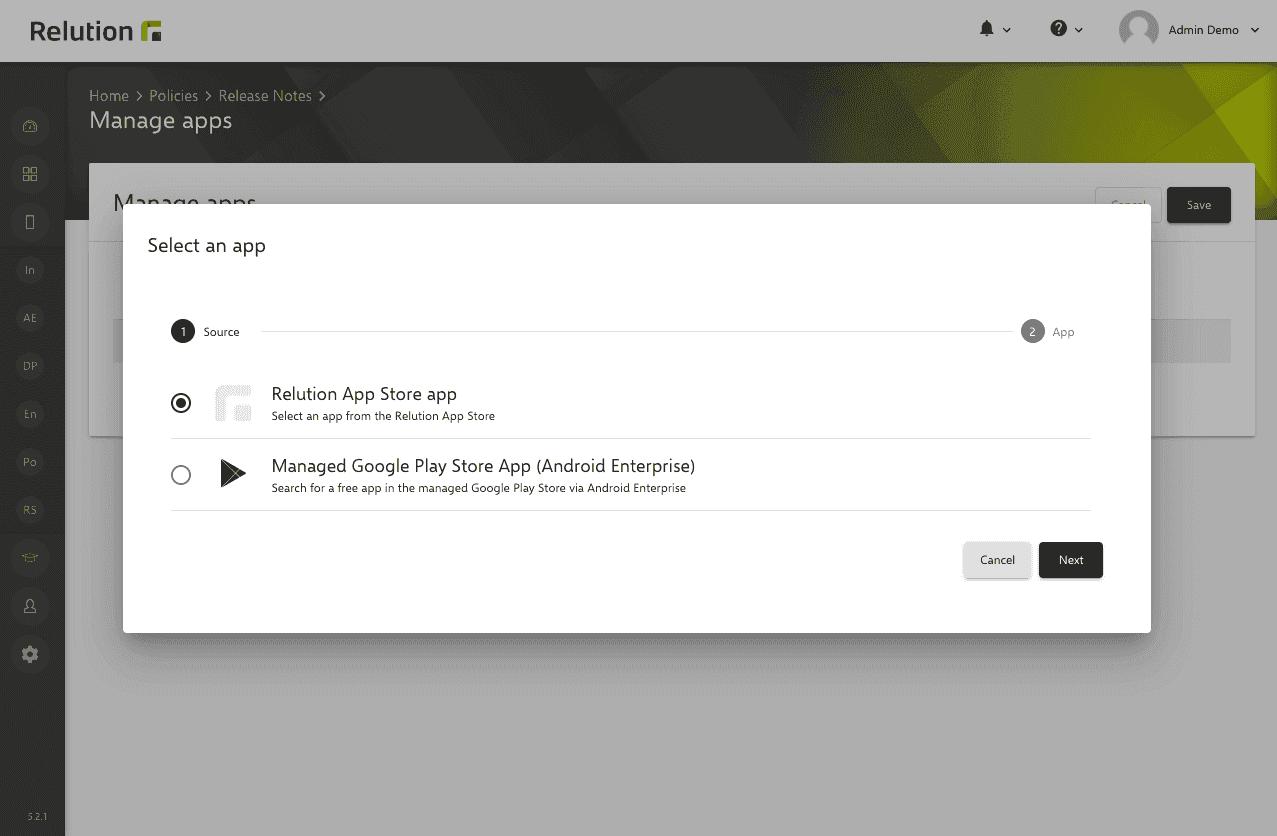 The maintenance of managed app configurations has been fundamentally revised with Relution 5.2. Especially complex managed app configurations can be searched comfortably. This simplifies the administration of apps. In addition, managed app configurations can be exported and imported with Relution 5.2. This means that configurations can also be easily distributed across organizations.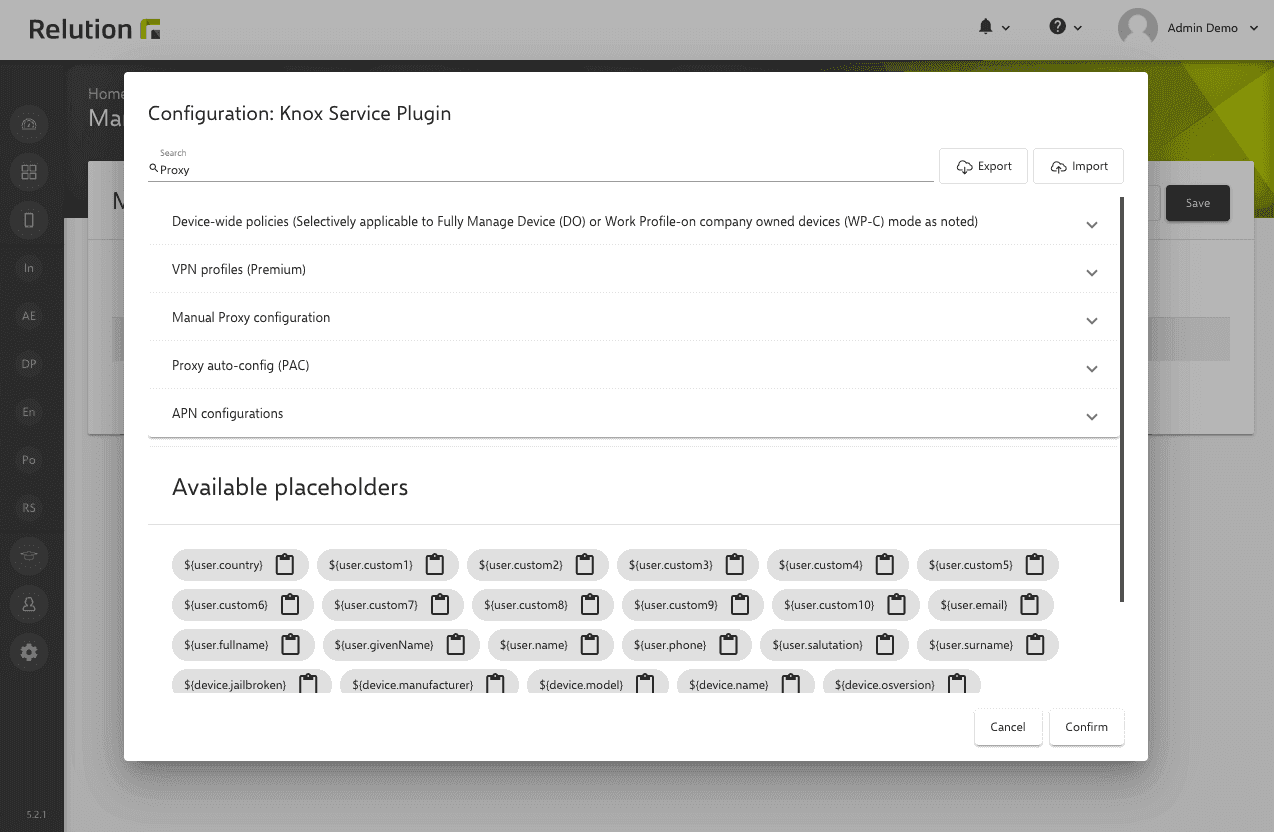 Defender
To further increase the security of Windows devices, additional functions have been integrated with Release 5.2. A Windows Defender scan can now be performed via a new action. You can choose between the two options "Quick scan" and "Full scan".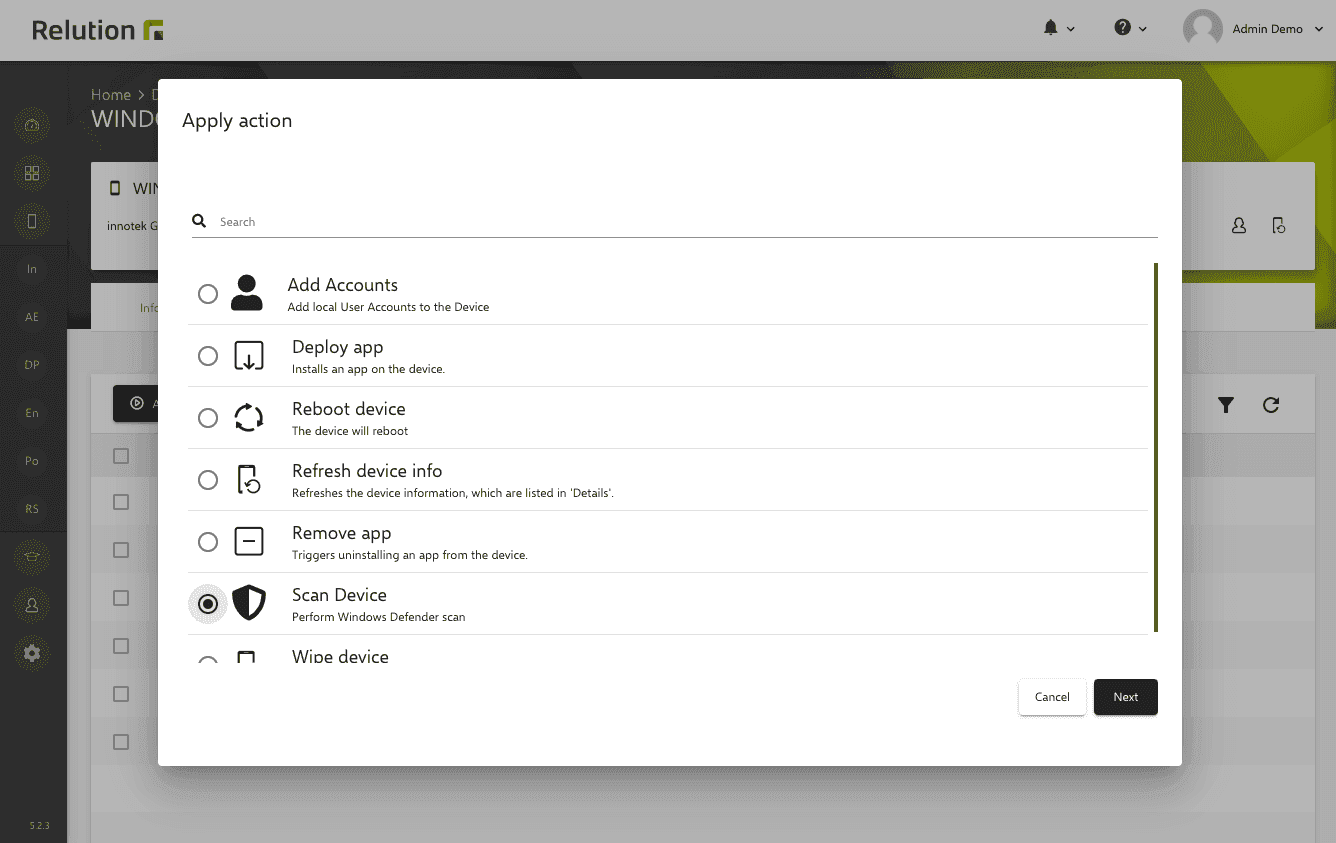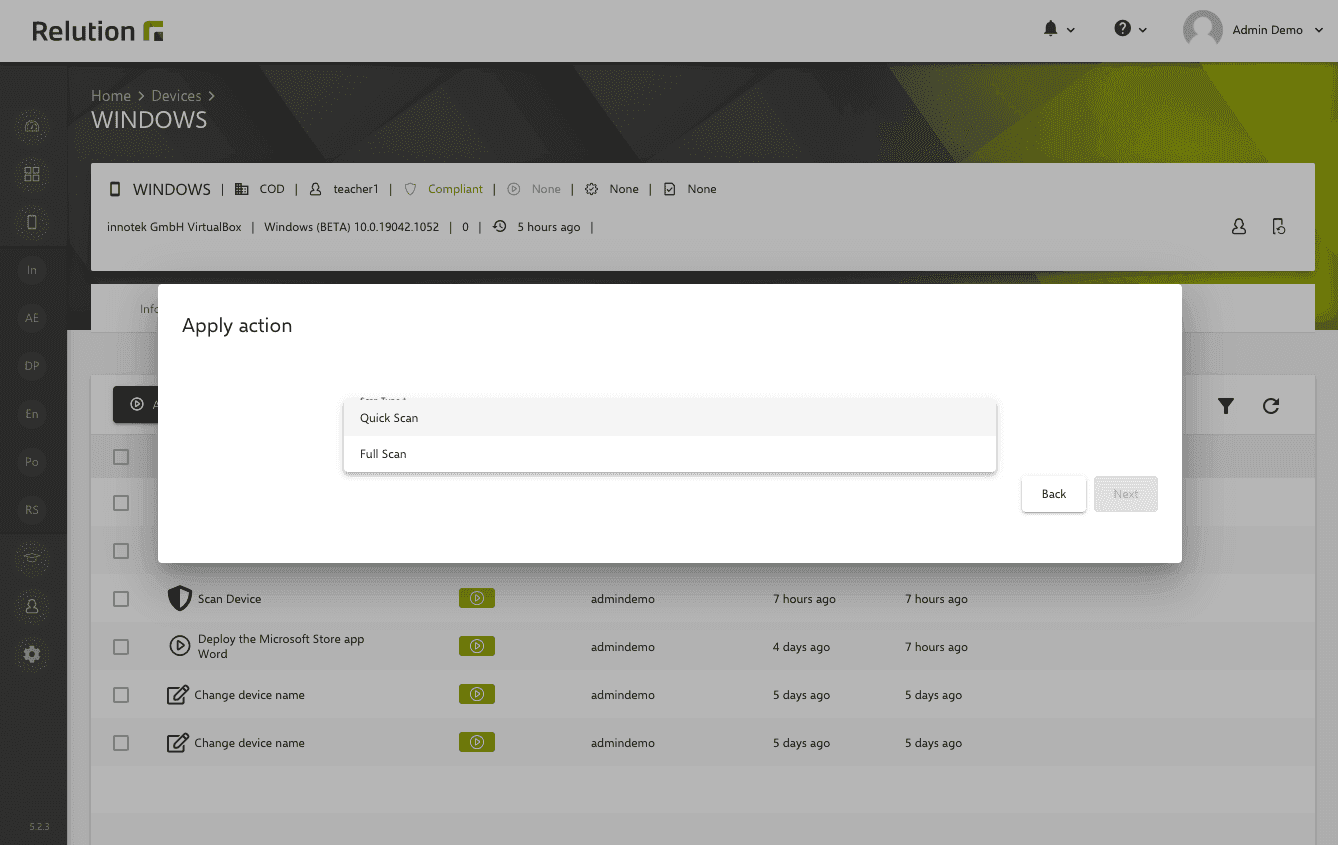 Further details have been added to the device information for Windows devices. For example, the time of the last Windows Defender scan can be evaluated in the "Health" section.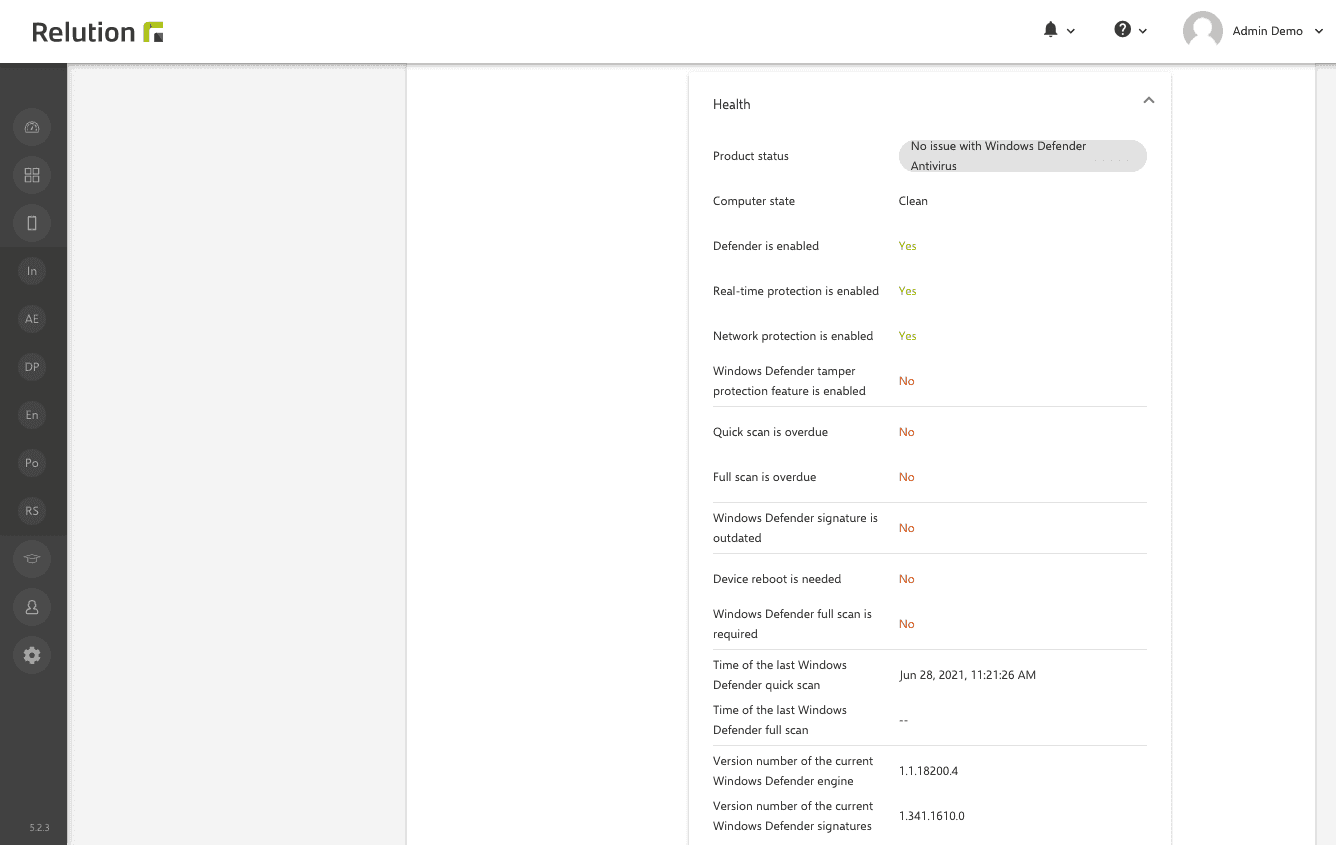 User Accounts
An additional action can be used to conveniently create new local user accounts on Windows devices. When creating local user accounts, an initial password can be set in addition to the user name. It is also possible to specify whether the account is an administrator account.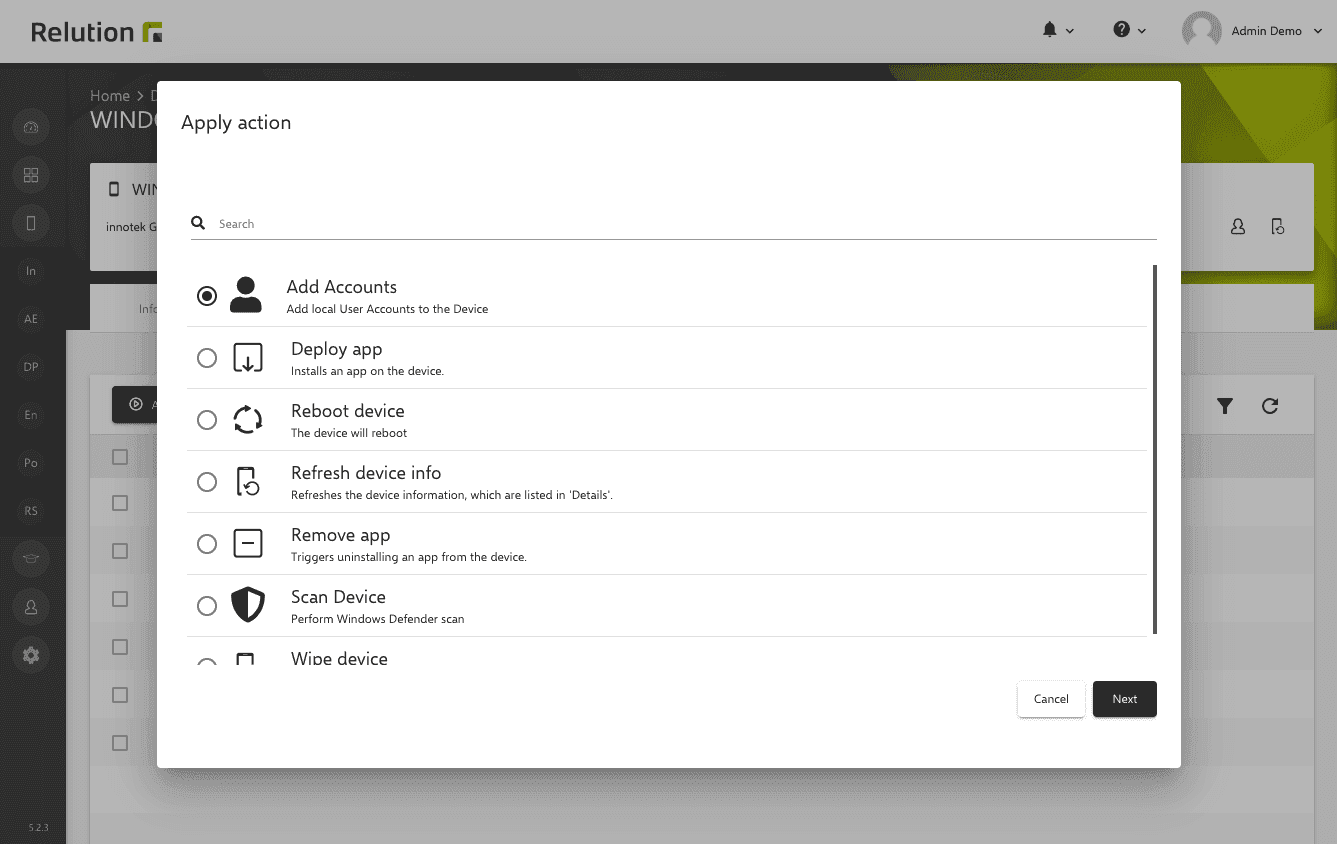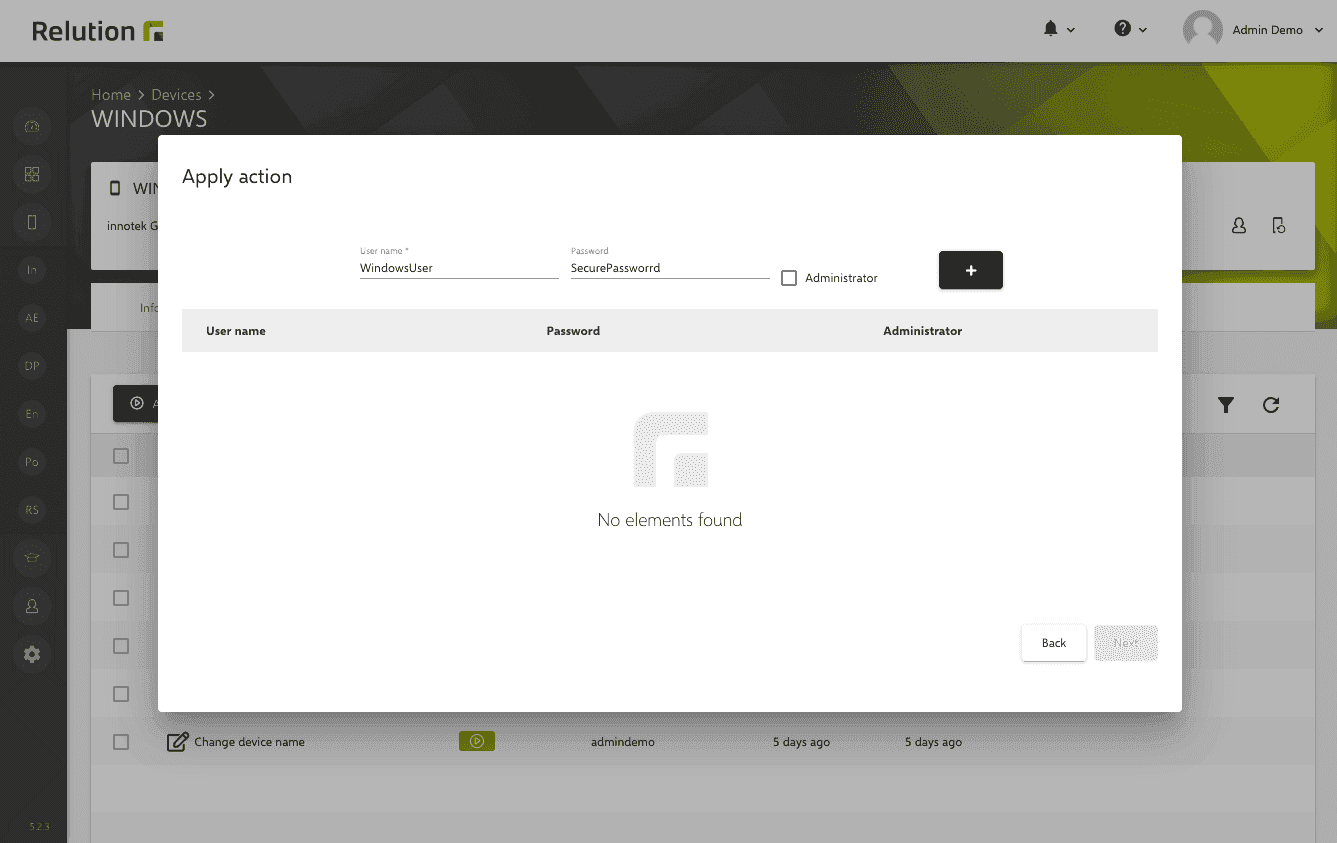 Remote desktop service
To be able to use the remote desktop functionality on a Windows 10 device, it must be enabled for this purpose. The function can be activated on devices via the "Remote desktop service" configuration. All members of the remote desktop user group on the target device then have the option of accessing the device and transferring their screen completely. The functionality is not available for Windows 10 Home devices.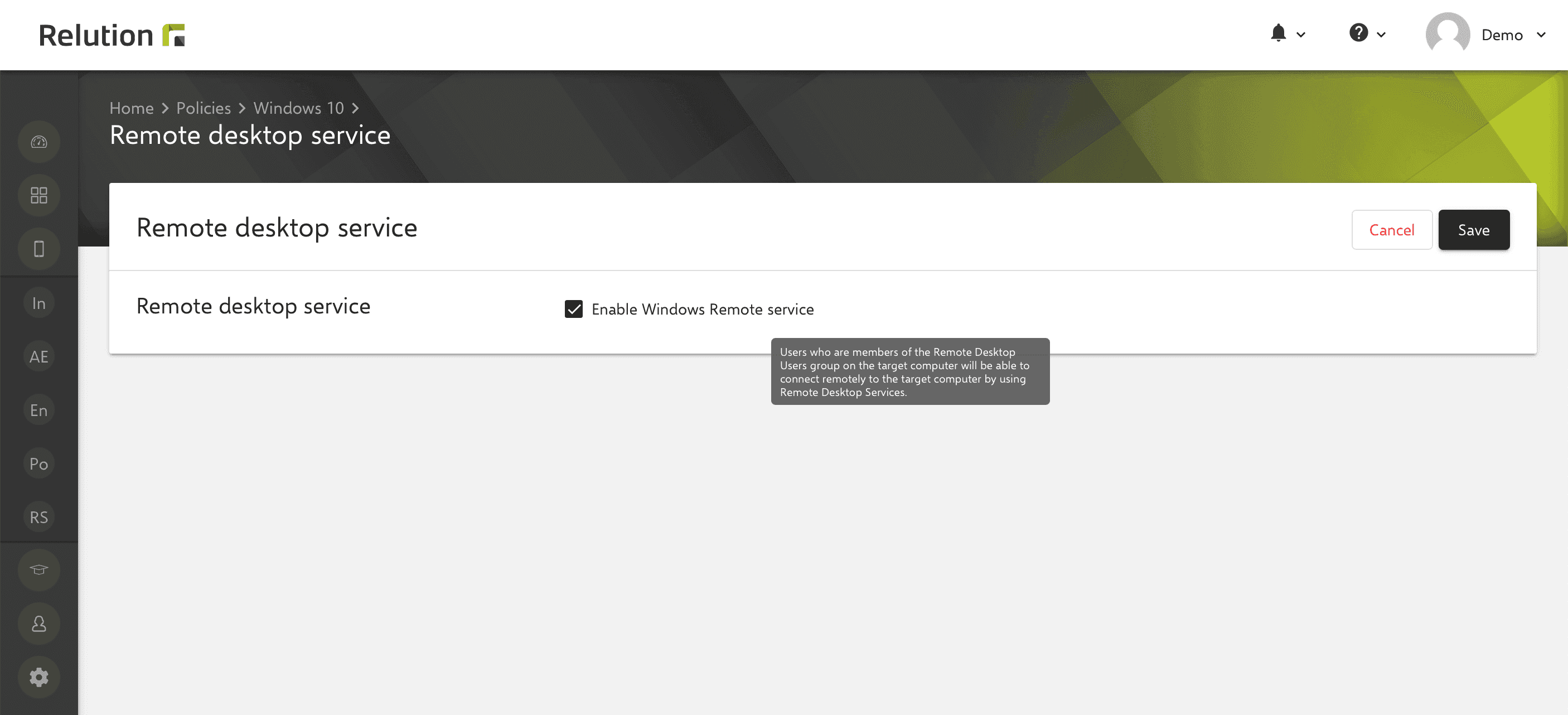 Start menu
The start menu on a Windows 10 device can be personalized via the "start menu" configuration. Among other things, the following information can be predefined:
Hide frequently used apps
Disable context menus
Collapse "Apps list"
Define start size
Pin folders such as Documents, Downloads or My Files
Hide buttons like shutdown, restart or hibernation
Hide buttons like lock, logout or change account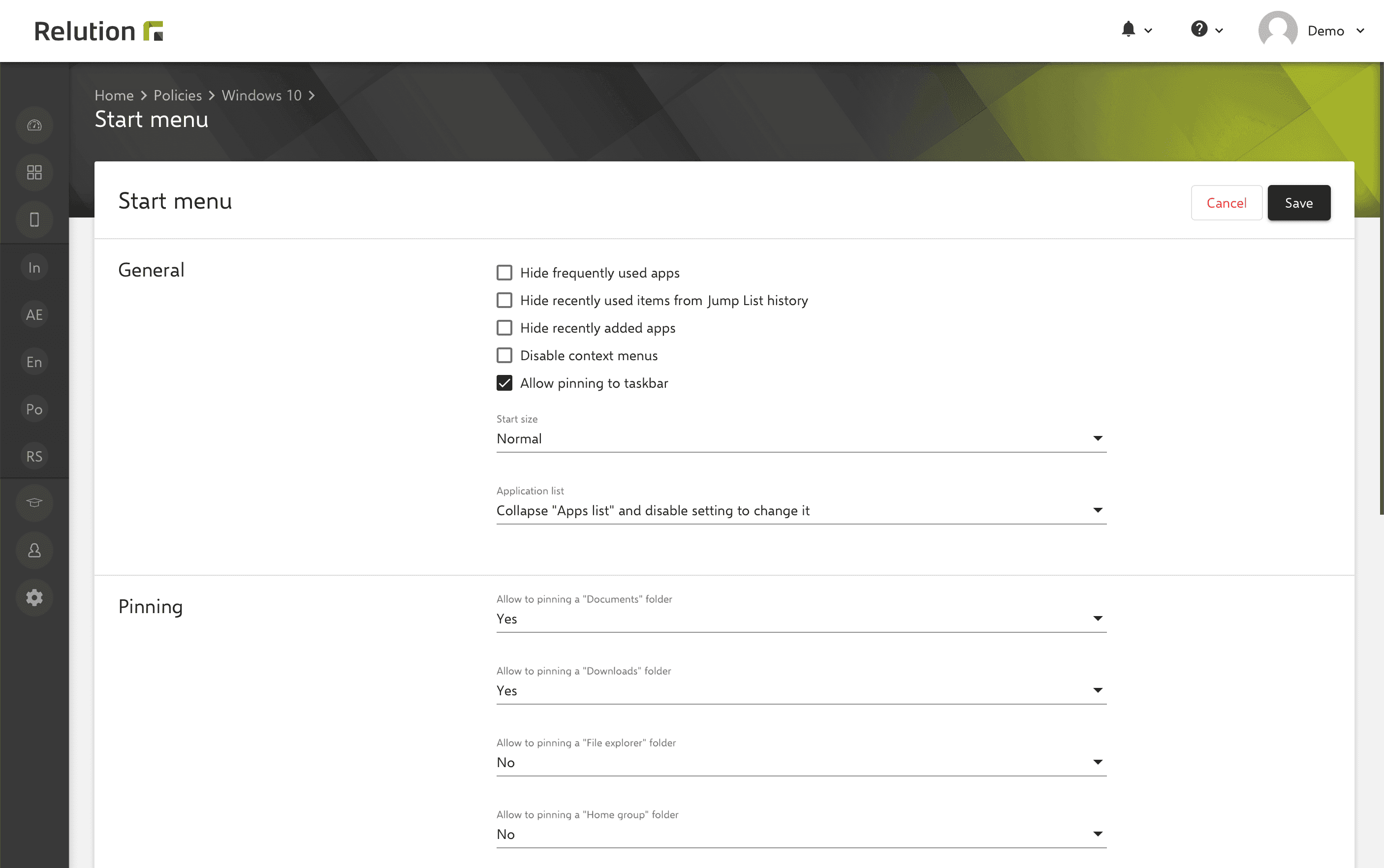 Exchange
With Release 5.2, no password entry is required in the Exchange configuration. As a result, the personal password must be entered directly on the Windows device.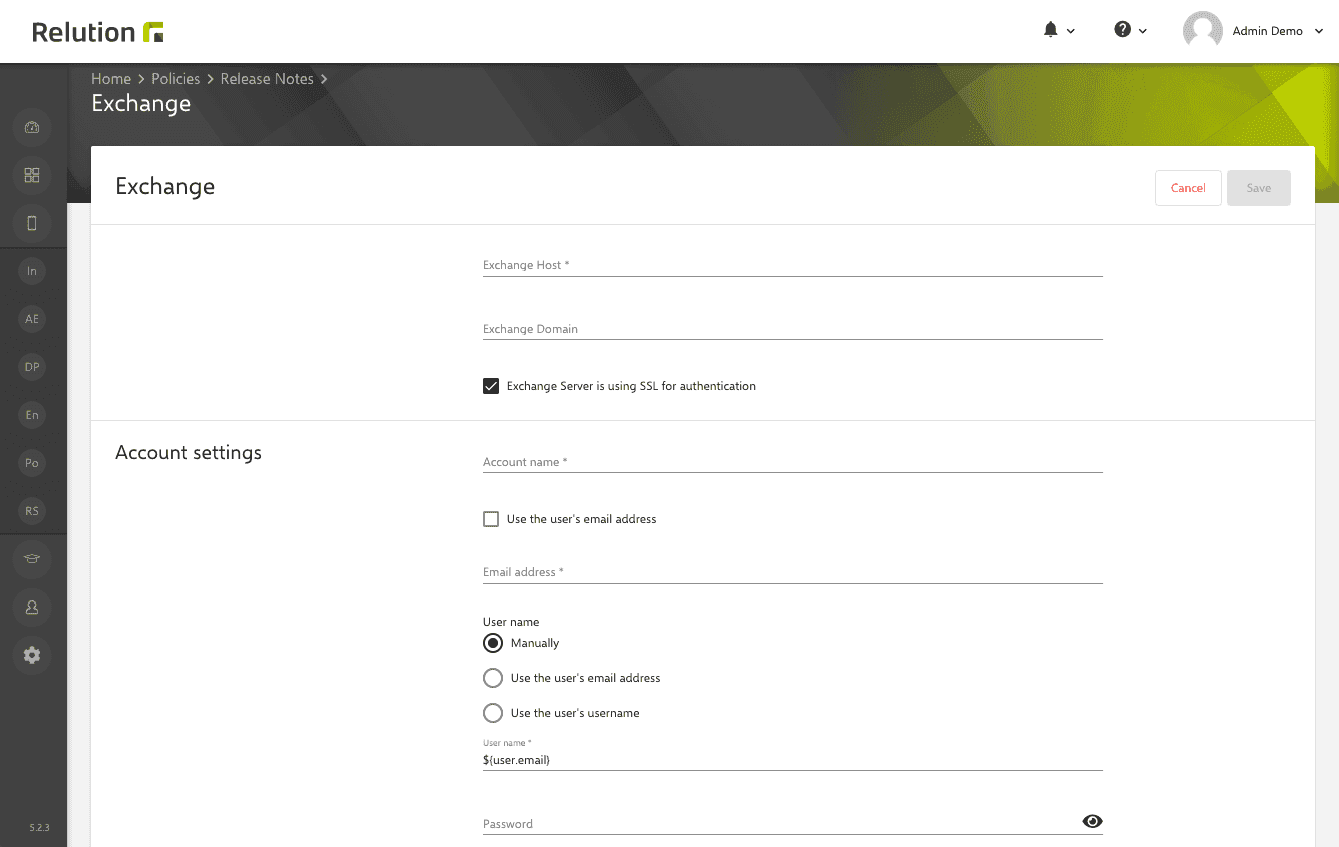 Microsoft Store
If Windows Apps from the Microsoft Store are installed on a device using the Auto-Depolyments function, the action performed is displayed in the device details.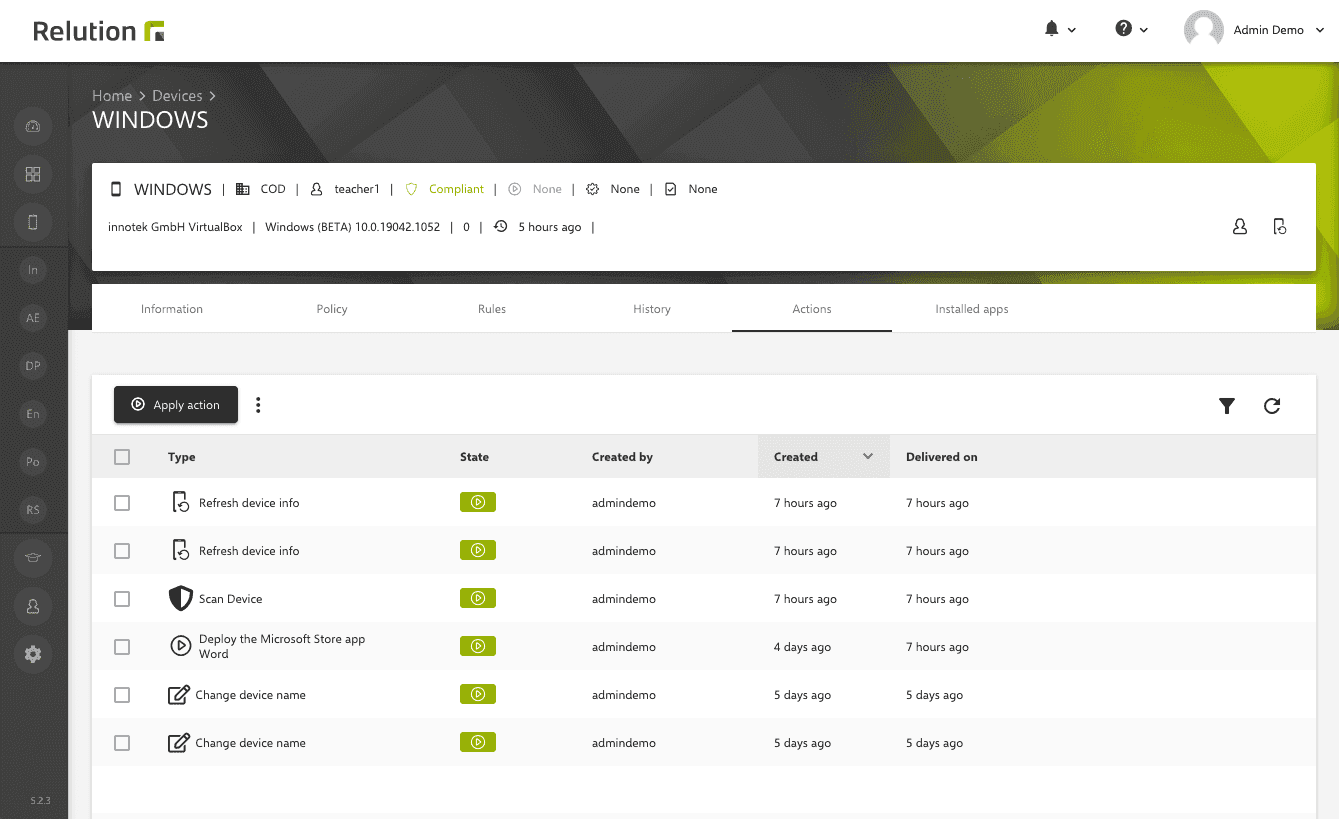 App Installation
With Release 5.2, the installation of .pkg files has been further optimized. This allows native apps to be installed centrally in addition to apps from the Apple App Store.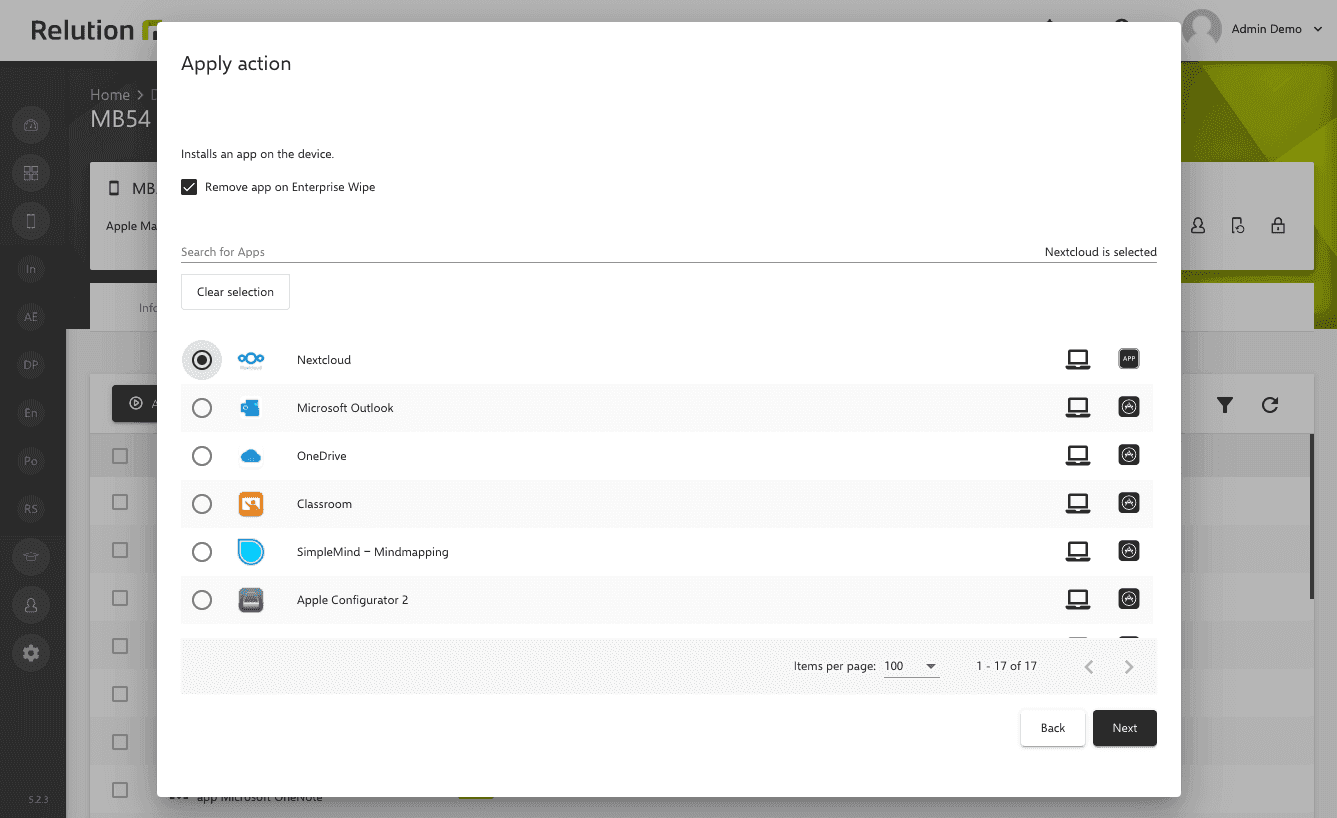 Device Information
Additional details have been added to the device information for macOS devices. In the future, the MAC addresses can be read in the Network section.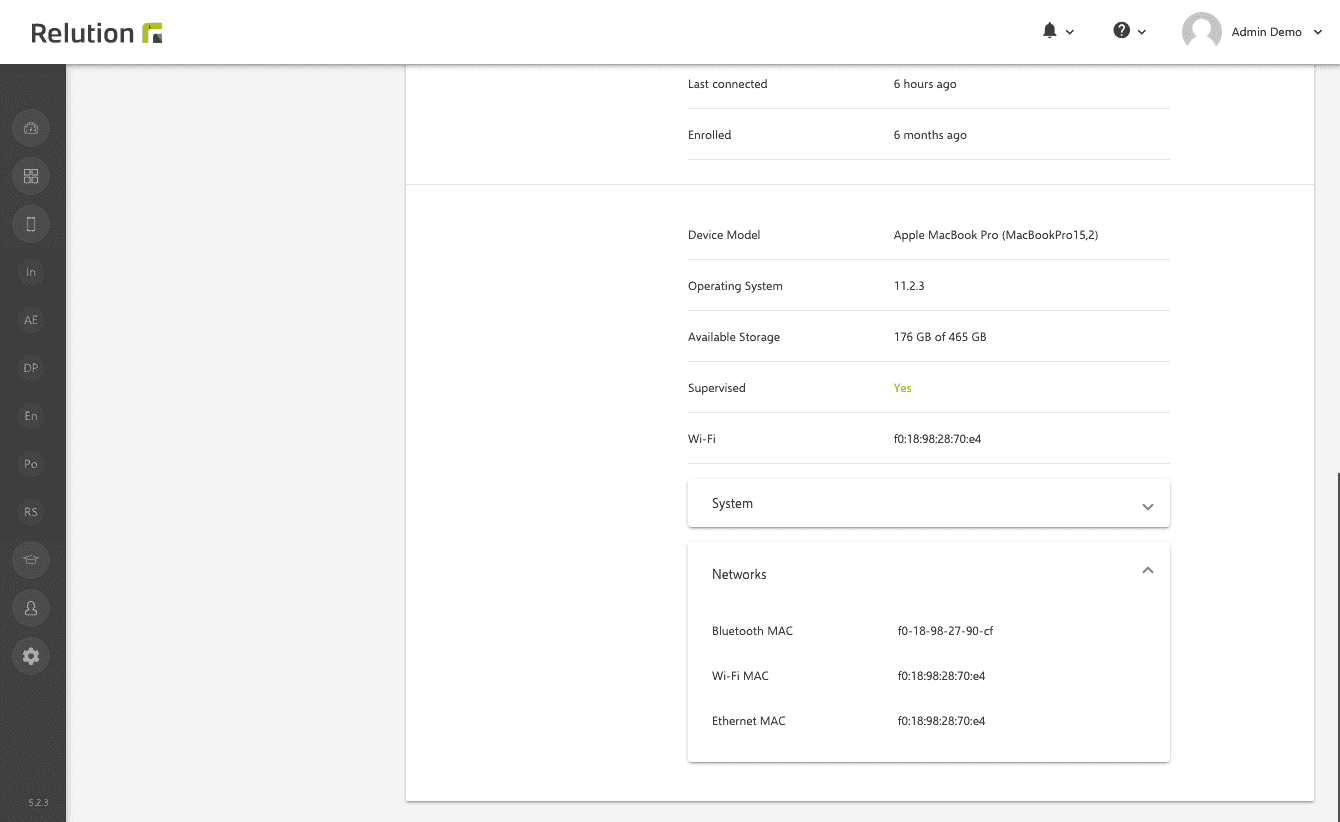 Usability / Functional optimizations
Table columns can be moved even more conveniently by dragging and dropping in the column selector
Devices can be filtered in the inventory by the status "Will be deleted"
Optimized display with link to Relution Agent in desktop browser.
Action for which an iOS device must be enrolled as Supervised will be offered only for Supervised devices in the future
System Apps will no longer be included in the compliance check for iOS
When selecting a VPN connection, a note is displayed if the VPN type is not compatible with the iOS in-app VPN feature
Apps can be deleted via a new action on macOS and tvOS
Windows system updates can be controlled even more fine-grained with a customized policy
When customizing the device name on Windows devices, a validation for allowed characters is performed and a corresponding error message is displayed
Certificates already uploaded to Relution can be deleted again
Old actions are automatically deleted from the device details after two years
Updated iOS App Store push certificates for communication with the Relution iOS app.
Updated iOS MDM certificates for communication with iOS devices.
Automatic authorization assignment of accounts for the groups "User" and "Device User".
Customized information and translations for options in iOS DEP profile.
Removed contacts and calendar settings in Windows email configuration
Optimization of importing classes with teachers and students
Disabling the Secure E-Mail Gateway feature for Windows Exchange configuration.
Improved performance when selecting entries in tables.
The changelog for the release can be found here.