Multi-factor authentication
Multi-factor authentication, or MFA for short, is an authentication method that requires users to provide multiple verification factors in order to gain access to an application. For logging in to the Relution Portal, it is now possible to activate additional authentication methods such as "E-Mail Token" and "Authenticator App" in addition to the user name and password. The introduced procedure for LDAP and local Relution users significantly increases the security of Relution accounts.
The new authentication methods can be configured centrally for all users in an organization. Alternatively, the new functionality can be configured on a per-user basis. Learn more in our Insight Multi-Factor Authentication.
In version release 5.16, MFA is available for the Relution console. Apps will be added with the new process and released soon.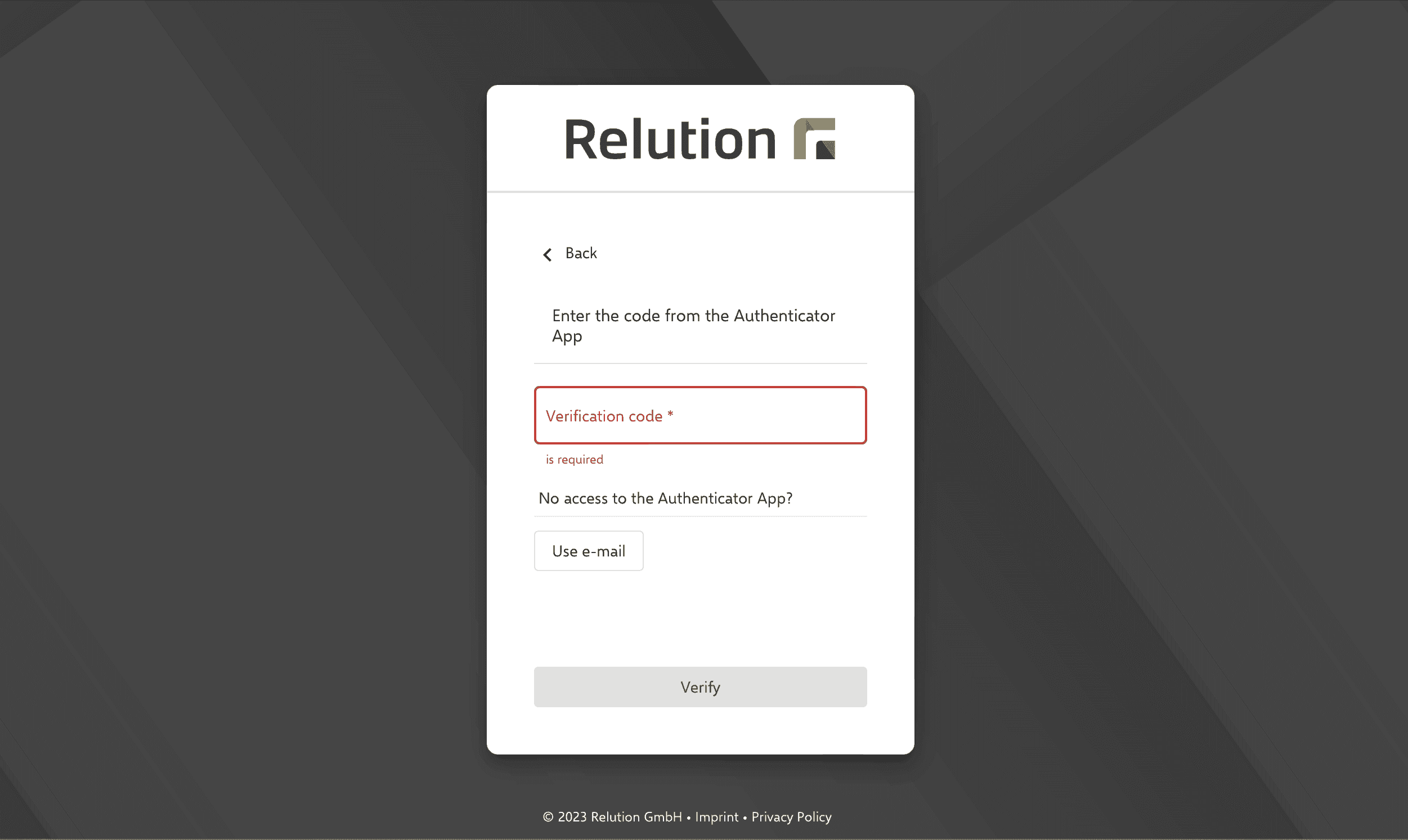 Setup Guide
The toolbar in the Relution Portal provides quick access to helpful information. The new "Setup Guide" provides administrators with a convenient introduction to relevant areas within the supported platforms Windows, Apple iOS and Android Enterprise. Using selected topics, administrators can familiarize themselves step by step with essential settings. Links to the manual provide further support. This makes it easy to deepen existing knowledge and extend it to other operating systems.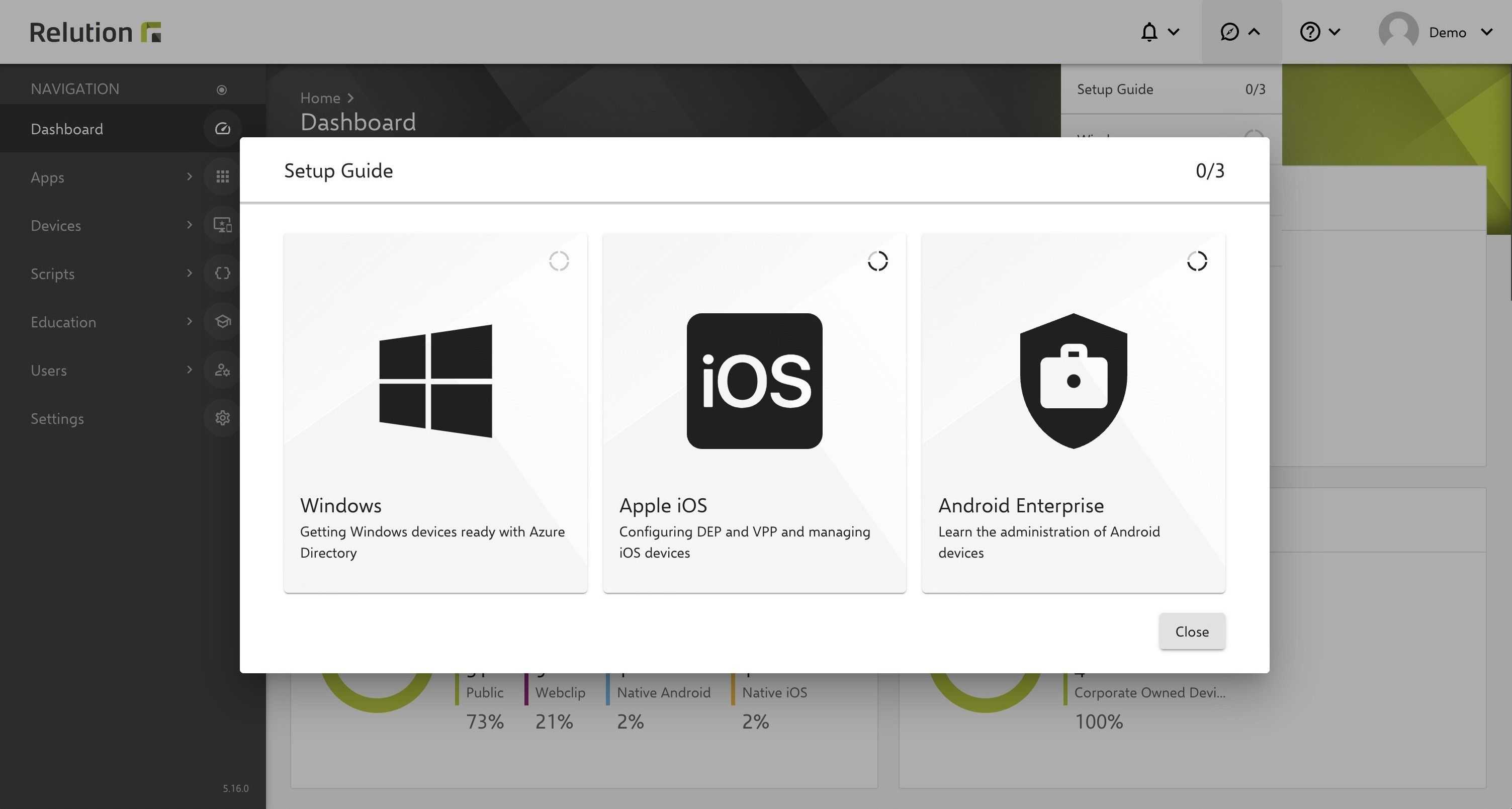 Relution Teacher Admin Mode
With Relution Teacher, student devices of an assigned class are optimally used in class through applied teaching profiles and concentrated work is made possible. For the duration of the lesson, the tablets are equipped with relevant apps and their functions are severely restricted. If the teacher ends the teaching mode, all apps and functions are available again on the student devices and a new teaching profile can be applied. If the teaching mode is not ended, however, the devices are not available to other teaching units and their use is still restricted.
Using the new "Admin Mode" in the Relution Teacher app, teachers are given the option to unblock student devices that are blocked by an ongoing lesson. This can be the case, for example, when starting a new lesson with the corresponding tablets or when a student is absent due to illness and wants to use the device fully at home.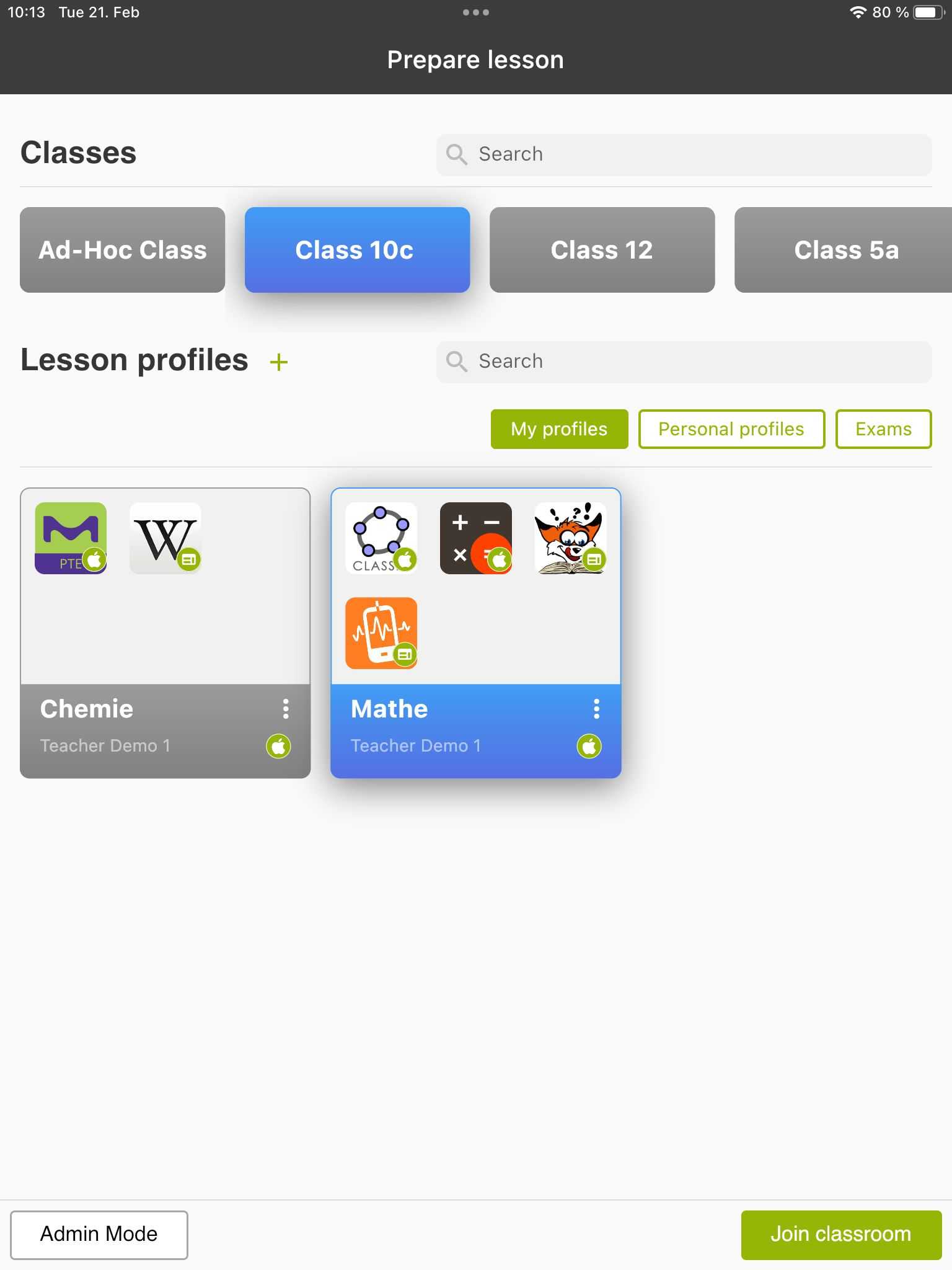 By pressing the "Admin Mode" button, the teacher can manually end the lesson for blocked student devices or remove individual students from the current lesson. Afterwards, the tablets are directly and fully available for further lessons.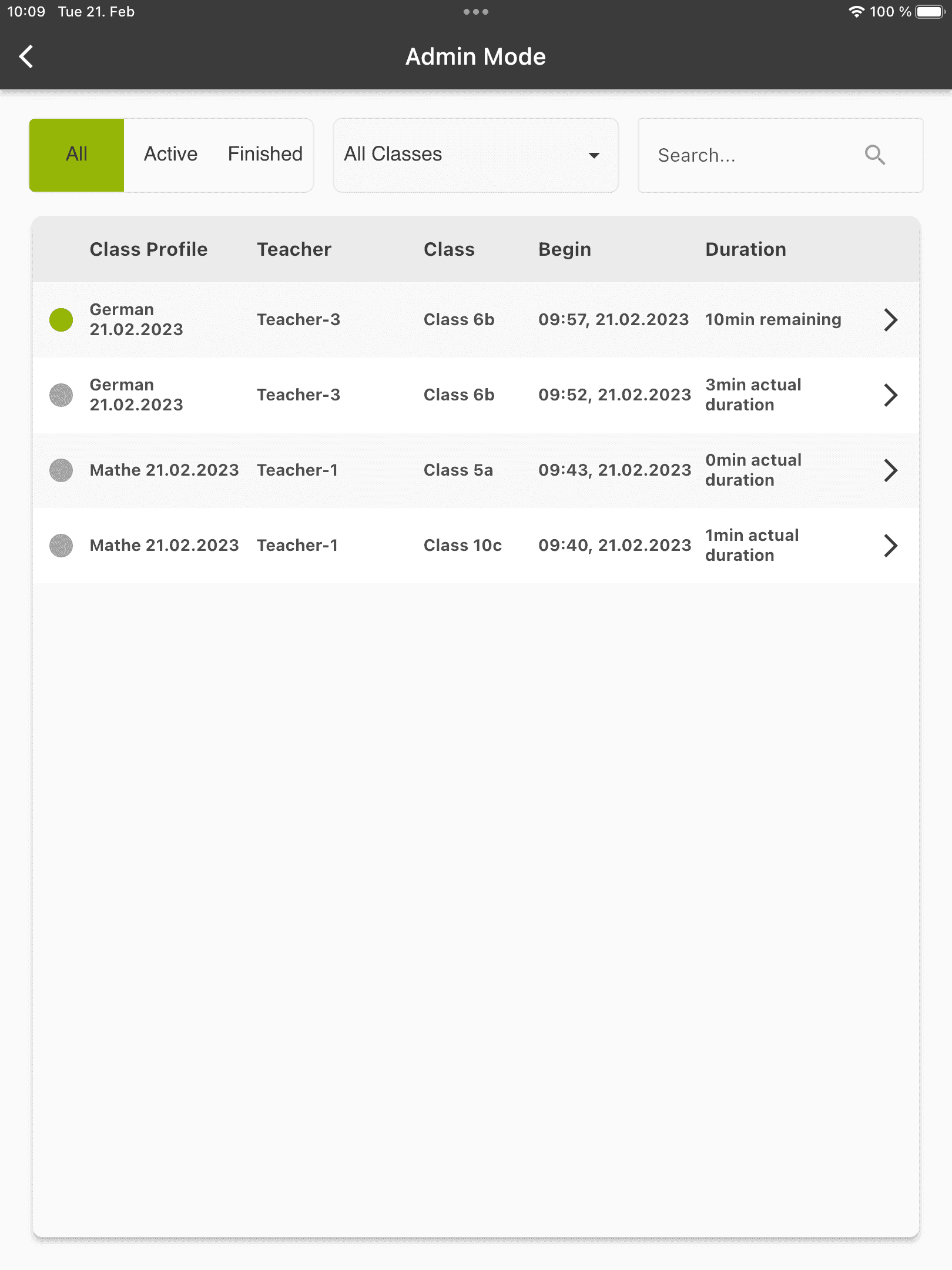 In addition, it is possible to view all active or finished lessons in the history and clearly understand which teacher and which class belong to which subject.
The button "Admin Mode" only appears for teachers whose Relution user has the corresponding rights. In the Relution Portal, the appropriate settings are made under "Users" > "Permissions" by activating the permissions "Read" and "Update" for the category "Lessons". Afterwards, the permission has to be assigned to the corresponding teachers.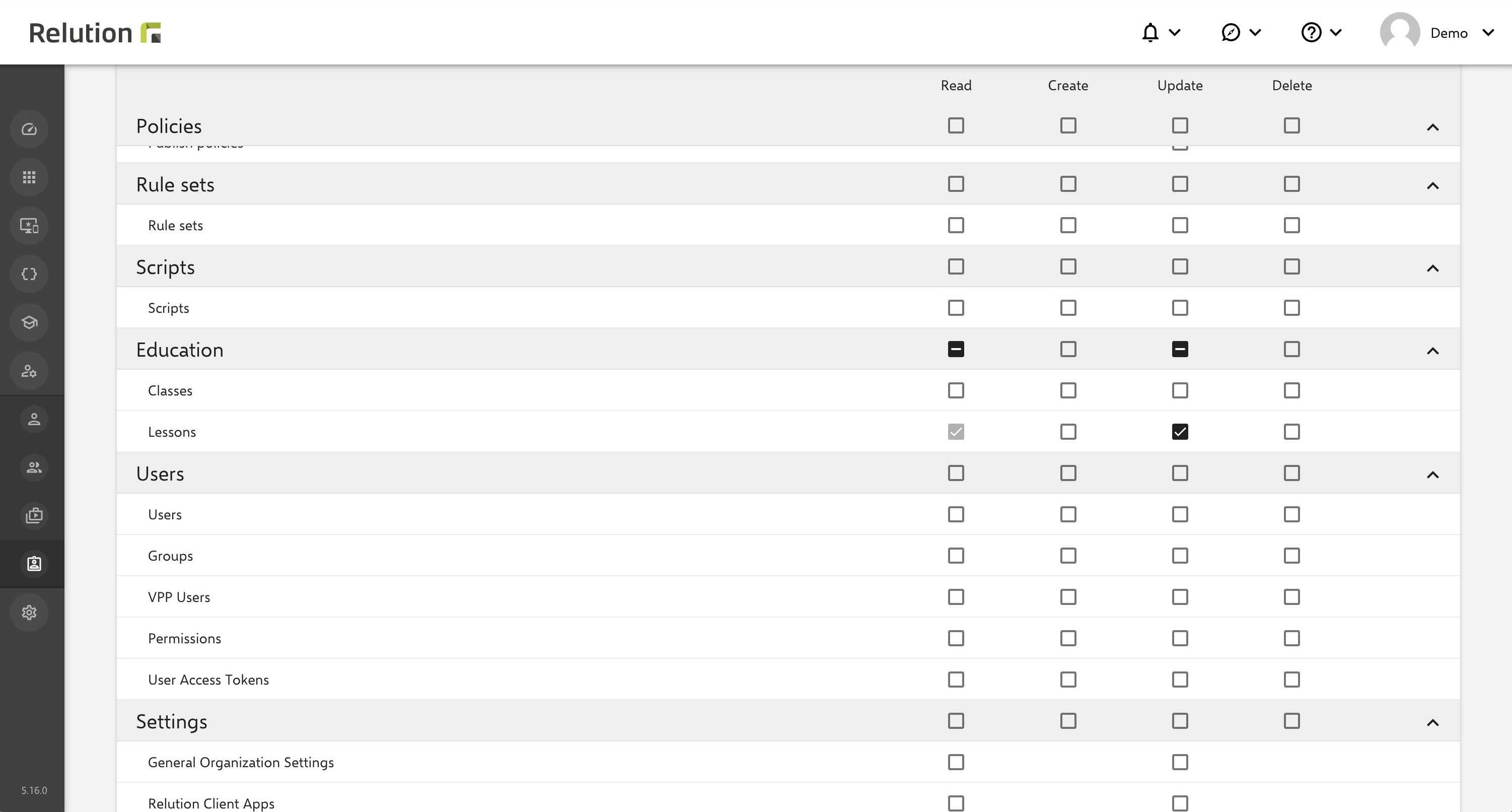 Classes in the user view
From now on, the class context in the form of teachers and students can be displayed directly in the user settings. For this purpose, the user view has been extended with the "Classes" section under "Direct memberships". By adding existing classes under "As a teacher", user can be quickly and conveniently added to a variety of classes as a teacher. The same is true for the "As Student" assignment. This significantly minimizes manual effort when adding users to a large number of classes, for example when a new teacher is added to the teaching staff. The classic assignment of individual users to classes still exists under "Education" > "Classes".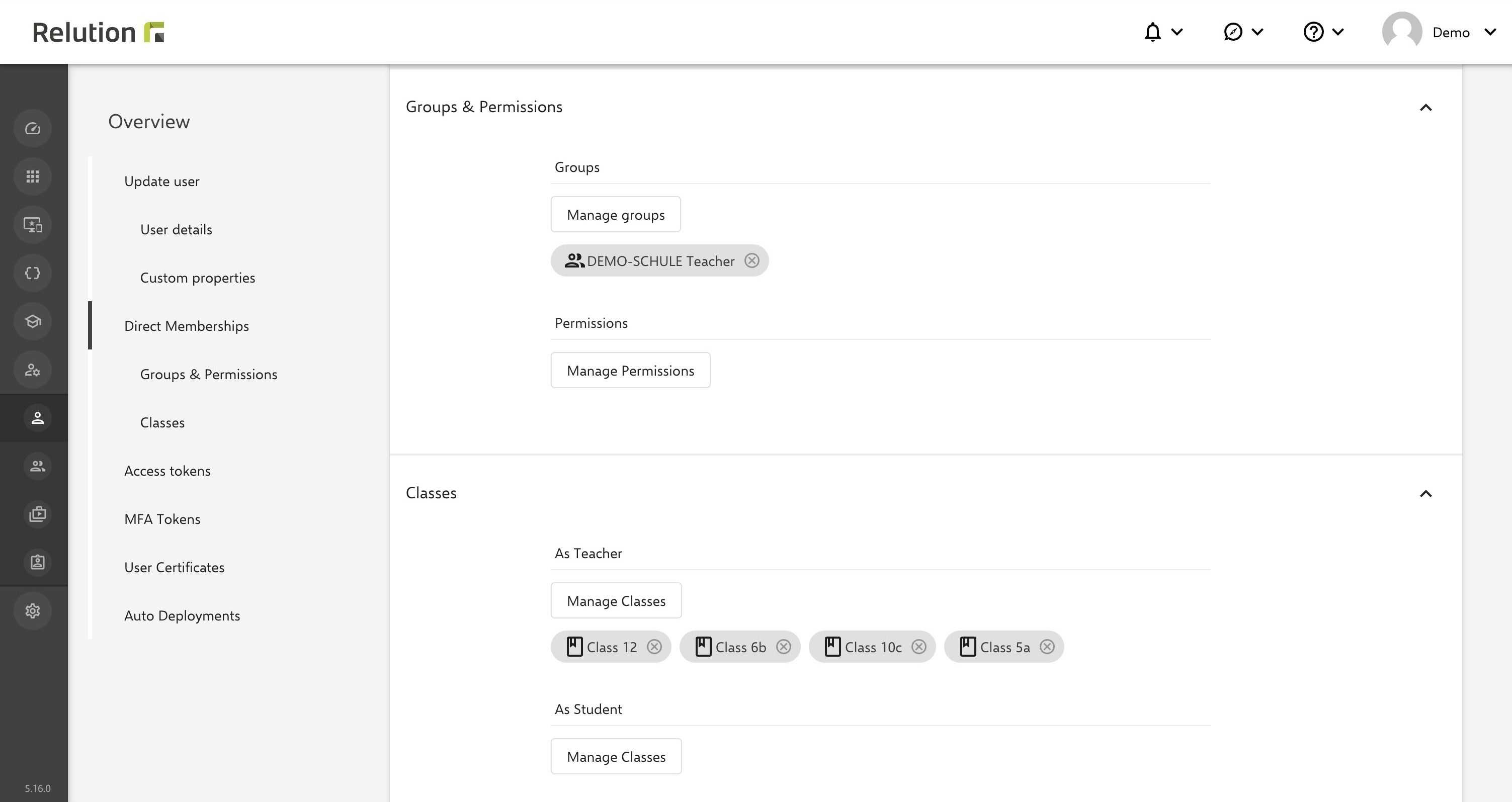 Sortable columns in device inventory
Relution now makes it possible to conveniently sort and flexibly display all columns in the inventory view of devices. In addition, the loading speed of the device list has been significantly improved.
Shared PC
With Relution, Windows 10/11 devices can be used as a "Shared PC" across users. This can be done either by logging in with a domain (user account) or as a guest. In order to ensure a data protection compliant use and the deletion of user-specific data on the devices, the new policy configuration "Shared PC" allows data relevant settings. For example, the deletion of accounts after logout can be defined, or access to local storage can be restricted. When logging in as an anonymous guest, temporary data is automatically deleted upon logout. Learn more in our Windows Shared PC Insight.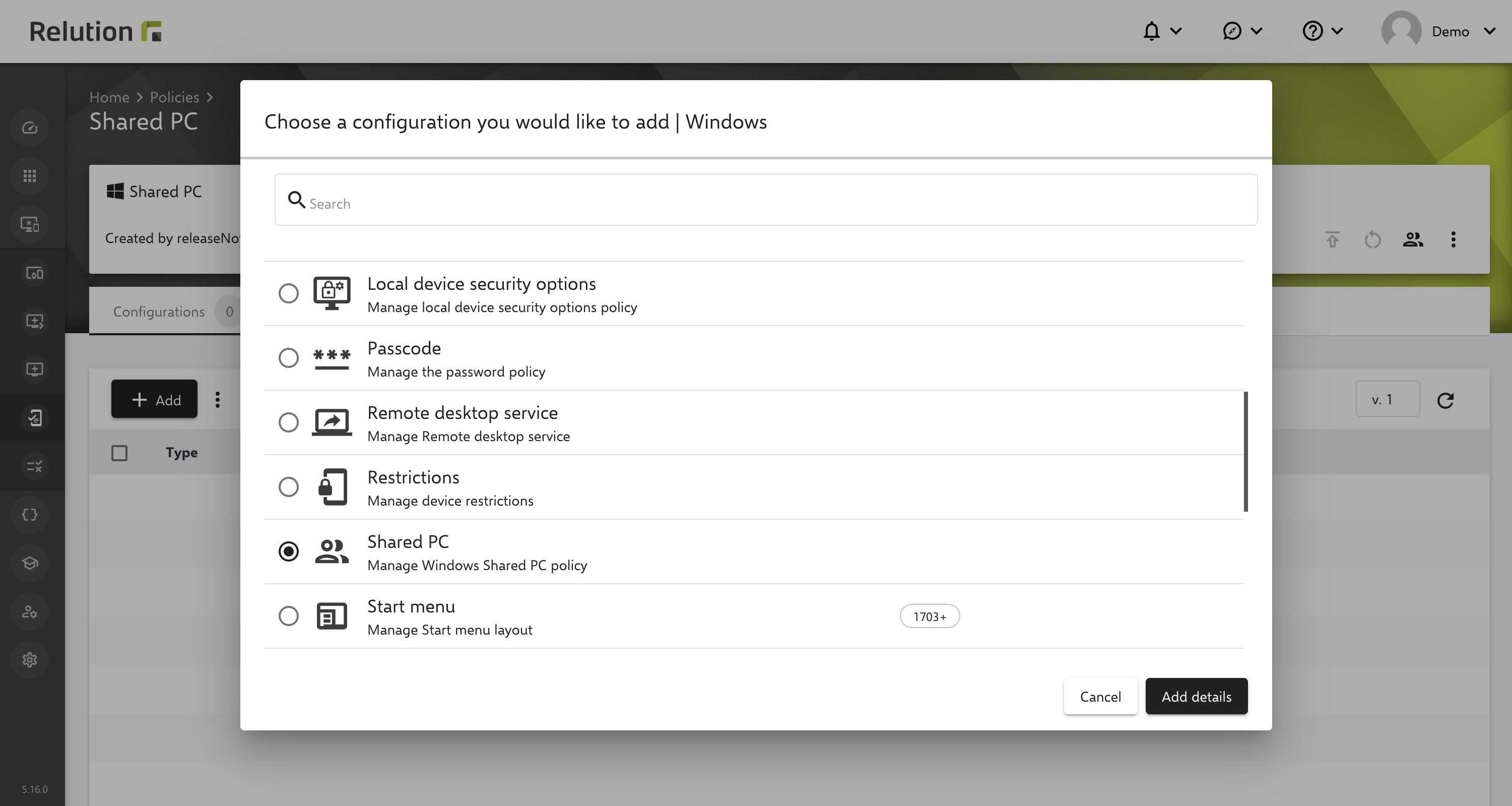 Manage PowerShell scripts
Until now, PowerShell scripts could only be manually uploaded to Relution and executed once per action. From now on, it is possible to import and conveniently manage all PowerShell scripts via the new "Scripts" area. Using the action "Execute PowerShell script", scripts that have been stored can be selected and executed repeatedly. There is no need to manually upload an existing script again.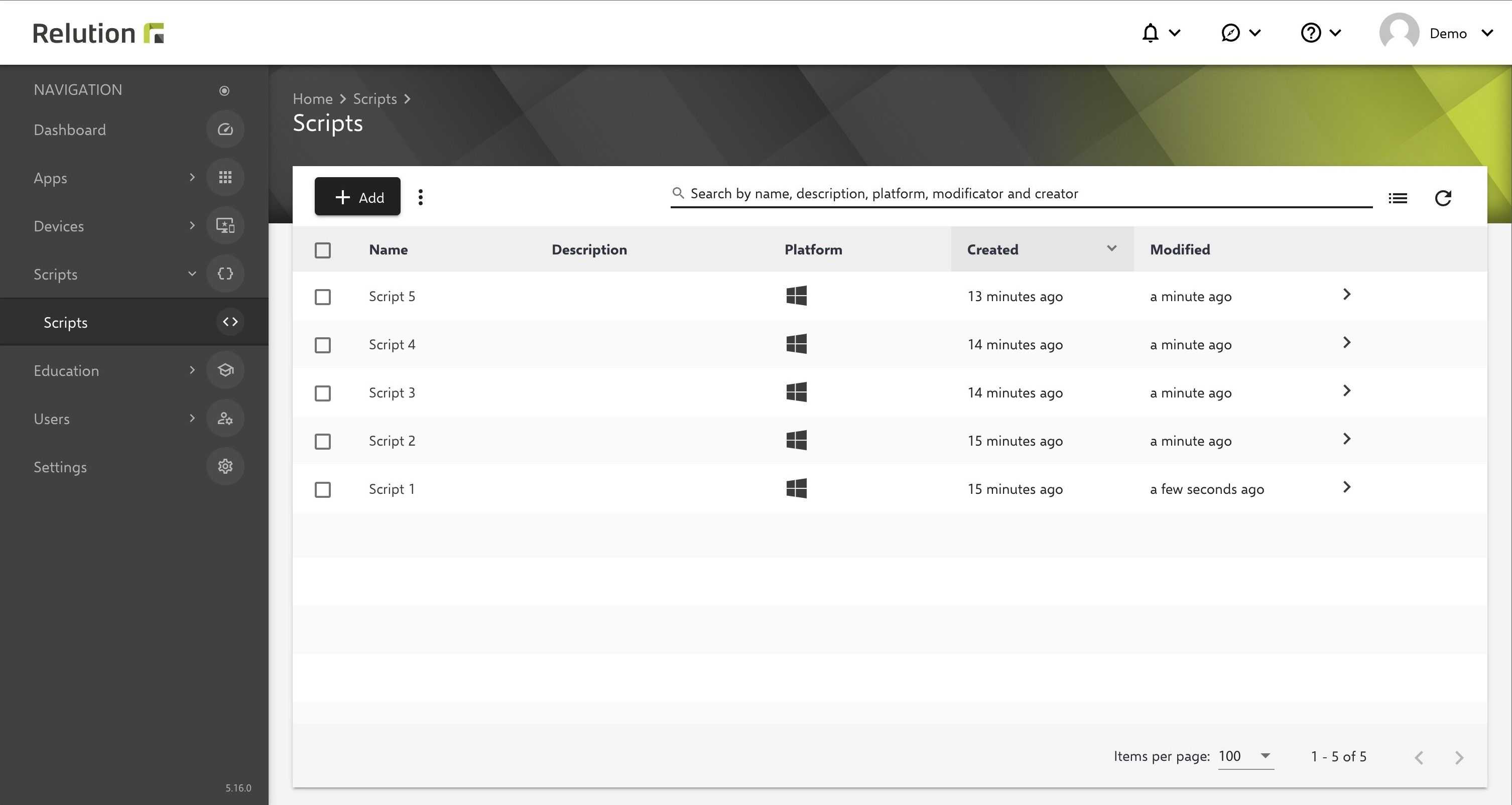 Note: Managed Powershell scripts are only usable on Windows devices.
PKCS12 client certificates
In addition to PKCS1 certificates, PKCS12 certificates are now also supported for the "VPN" and "WiFi" policy configurations.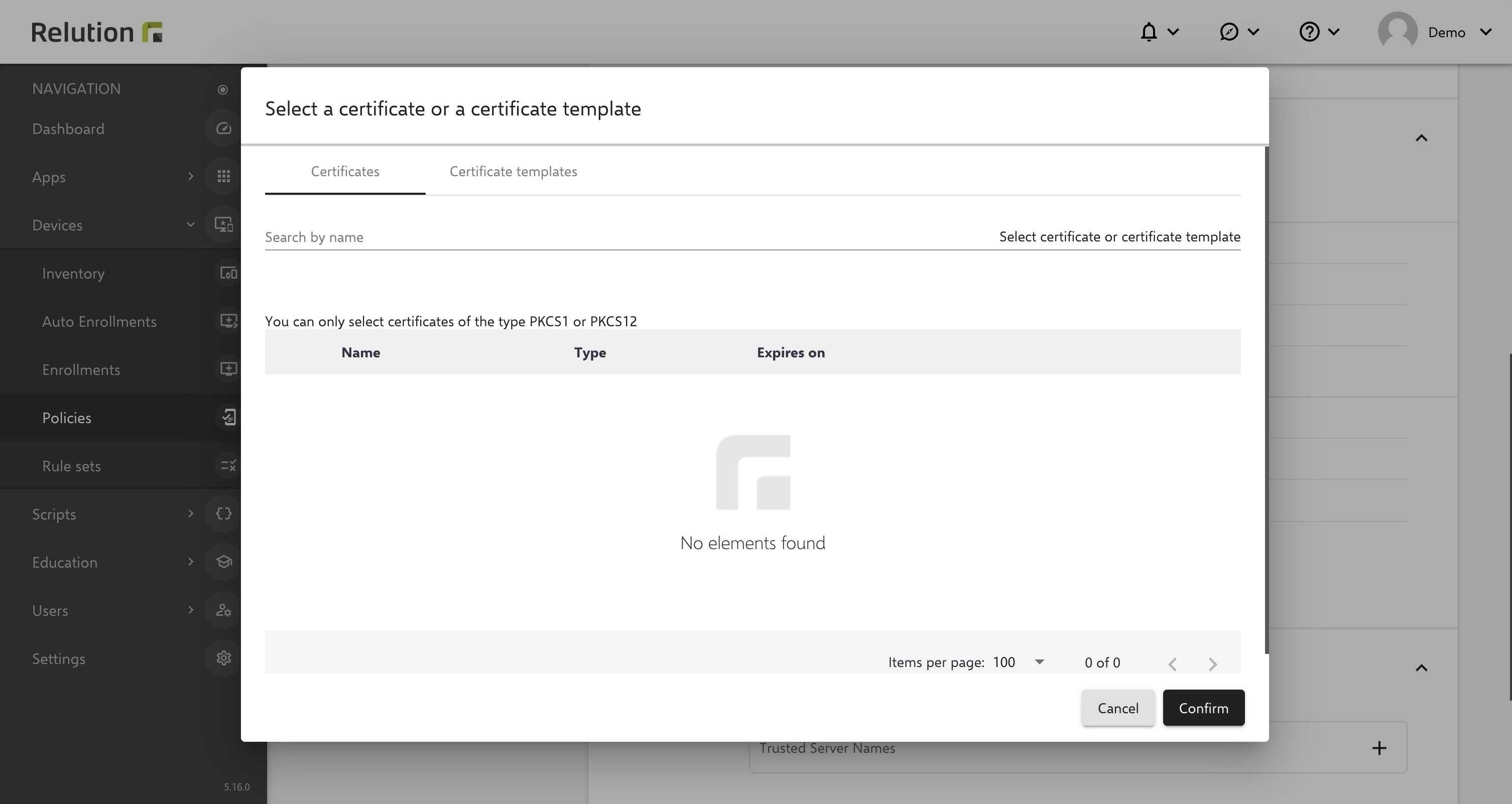 eSIM mobile plan for iOS
If a mobile phone contract is concluded, a physical SIM card is usually used, which is inserted into the device. However, there is also the possibility to use eSIM, which is not physically inserted into the device, but is installed. With Relution, an eSIM can be configured conveniently and time-savingly on a device via the "eSIM mobile rate" action, without having to physically pick it up. This requires a specific URL provided by the respective provider, which can only be used for an eSIM and must be specified in Relution to execute the action. Once the action has been executed by the device, the device is mobile-enabled. Prerequisites for iPhones and iPads are an existing cellular module and at least iOS 14.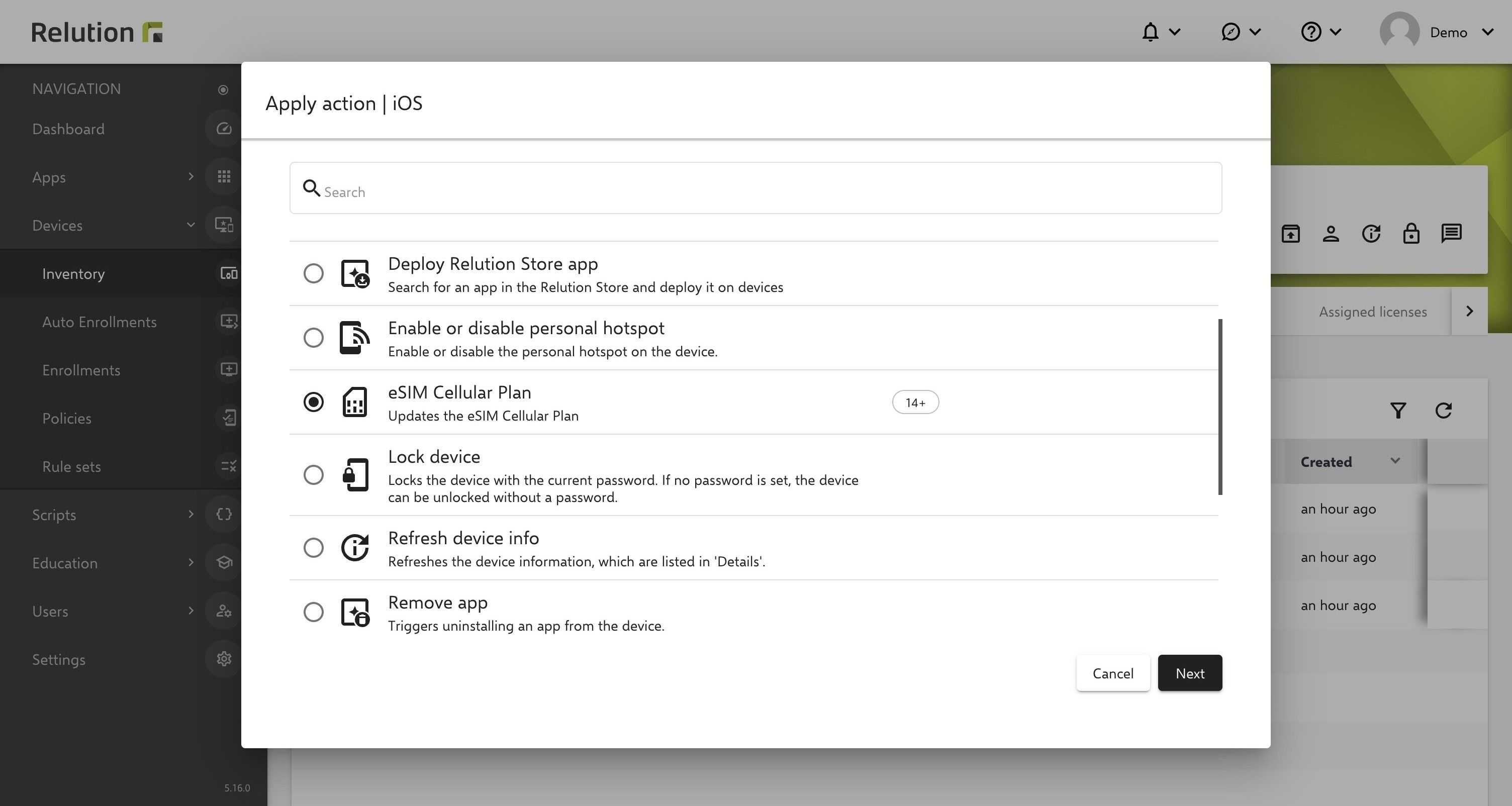 Reboot and shutdown for macOS
Administrators will be able to remotely shut down and reboot MacBooks with the new Relution version using the "Reboot Device" action. Optionally, this can be performed without or with information to the user.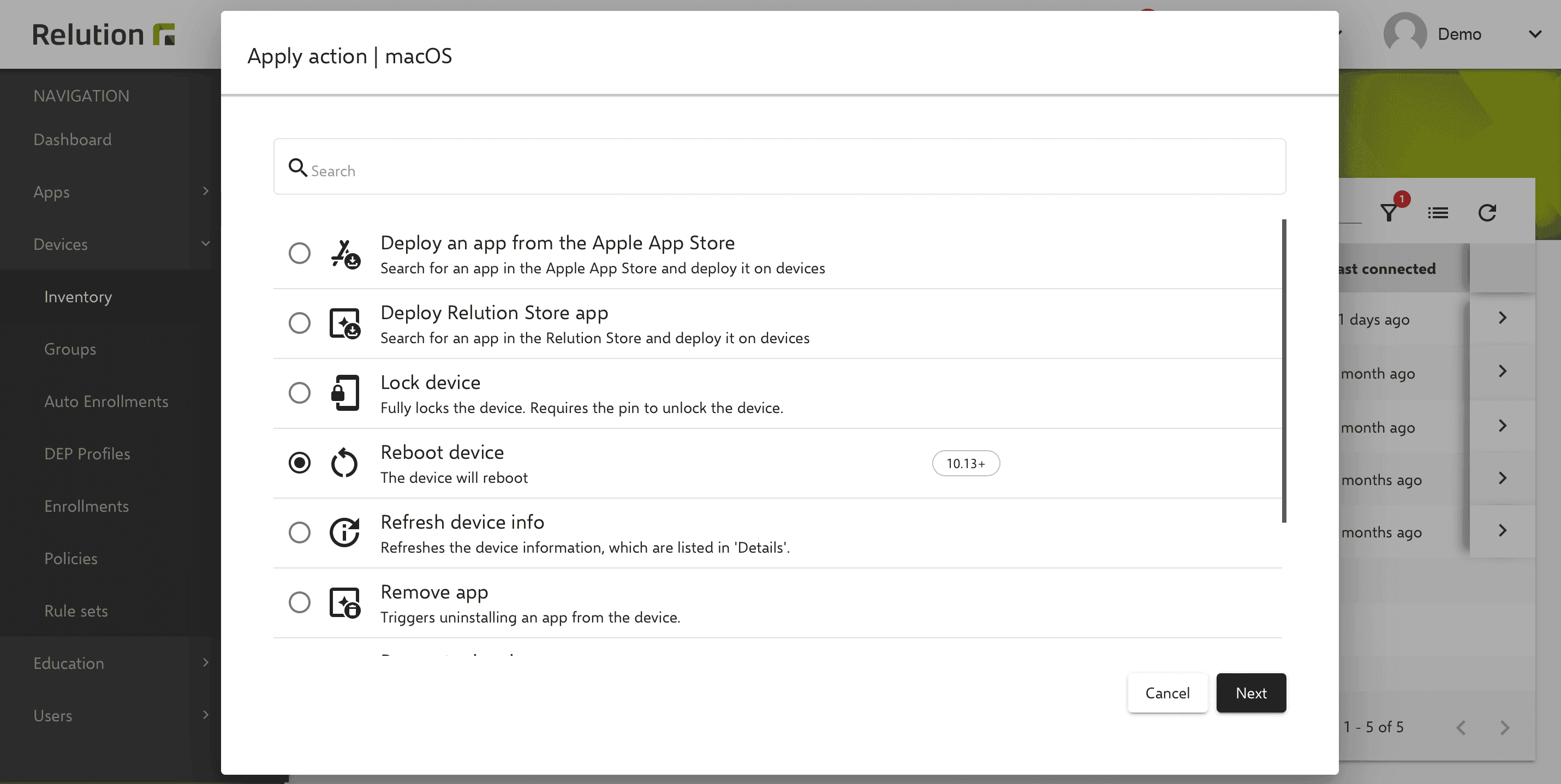 Global Ethernet configuration macOS (configuration and policy):
MacBooks can be set up not only with WiFi, but also with Ethernet. To increase security, it is possible to configure MacBooks with the Ethernet module with the new policy configuration "Global Ethernet configuration".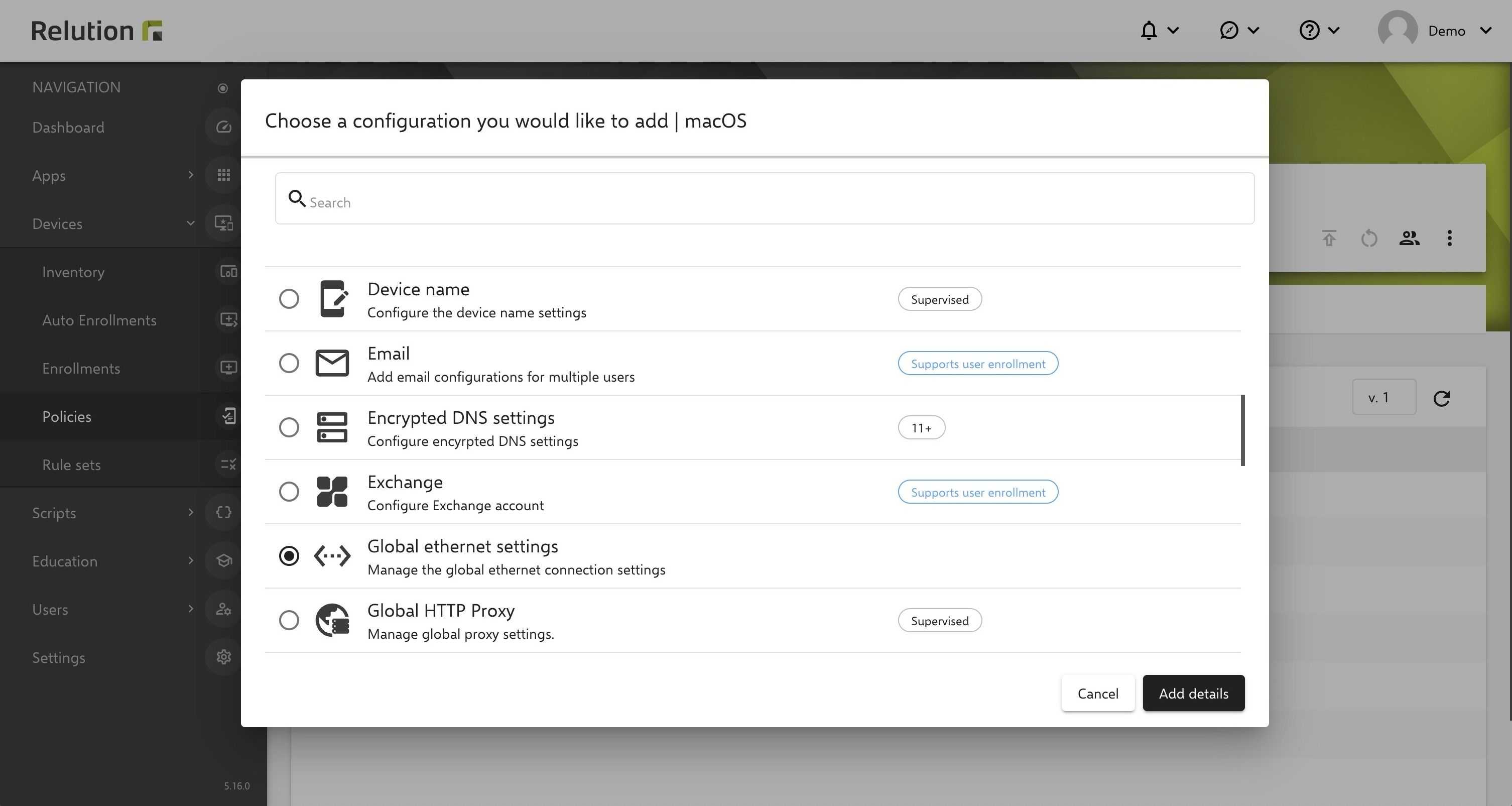 The changelog for the release can be found here.