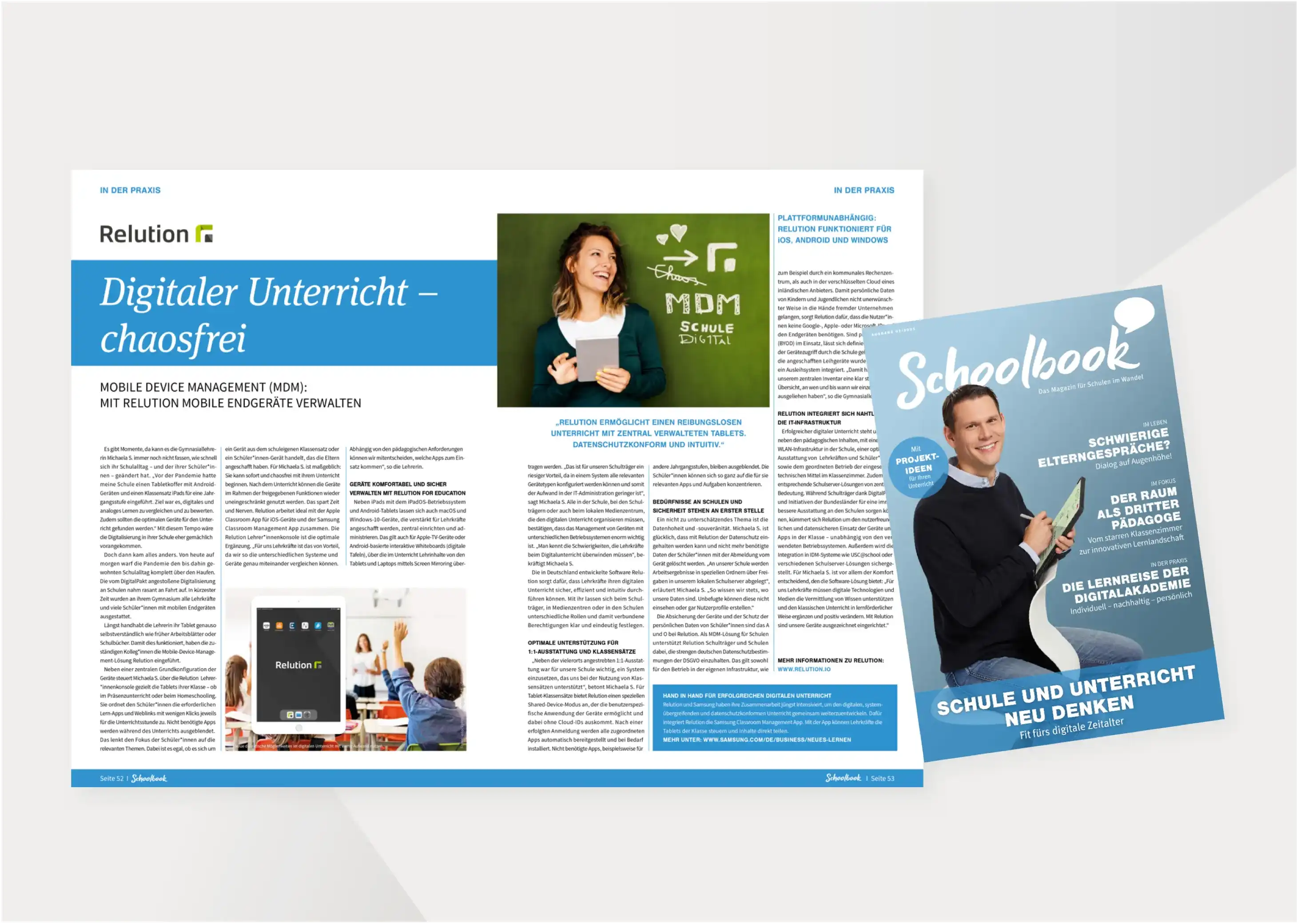 Rethinking school
Fit for the digital age with Relution
"The digital transformation at German schools is in full swing. Almost every school has a media and digitisation concept in the drawer - but implementing the concept is often difficult. This is because the digital infrastructure is not optimally developed across the board and many teachers lack knowledge and experience of how digitalisation can be lived out at their school." This is how editor-in-chief Heike Abel of "Schoolbook - Das Lehrermagazin für Schulen im Wandel" introduces the latest issue in her foreword.
With this, she hits exactly the sore digital point. But on two pages, she describes how Relution facilitates everyday digital school life and what solutions the device management has in store for all those involved in the digital transformation - especially for teachers and pupils.
The focus is not only on technical implementation but also on pedagogical freedom in the classroom. Key words for digital and chaos-free teaching are platform independence, connection and integration with IDM systems such as UCS@school from Univention or the integration of the Samsung Classroom Management App from Samsung Electronics.
The report shows solutions for data protection, server solutions and the everyday use of tablets.
For Michaela S., our interviewed grammar school teacher, it is clear: "For us teachers, digital technologies and media must support the imparting of knowledge and complement and positively change classical teaching in a way that promotes learning. With Relution, our devices are excellently set up."
"Report in "Schoolbook - Das Lehrermagazin für Schulen im Wandel", issue 2/2021"
Digital teaching - chaos-free
Mobile Device Management (MDM): manage mobile devices with Relution
There are moments when Michaela S., a secondary school teacher, still can't believe how quickly her school routine - and that of her students - has changed. "Before the pandemic, my school had introduced a tablet case with Android devices and a class set of iPads for one grade. The aim was to compare and evaluate digital and analogue learning. In addition, the aim was to find the optimal devices for teaching". At this pace, digitisation in her school would have progressed rather leisurely.
But then everything changed. From one day to the next, the pandemic completely overturned the school routine that had been familiar until then. The digitisation of schools initiated by the DigitalPakt picked up speed rapidly. In a very short time, all teachers and many pupils at her grammar school were equipped with mobile devices.
The teacher has long since handled her tablet as naturally as she used to handle worksheets or textbooks. To make this work, the responsible colleagues have introduced the mobile device management solution Relution.
In addition to a central basic configuration of the devices, Michaela S. specifically controls the tablets of her class via the Relution teacher console - whether in classroom teaching or homeschooling. She assigns the required learning apps and web links to the students for the lesson with just a few clicks. Apps that are not needed are hidden during the lesson. This directs the students' focus to the relevant topics. It doesn't matter whether it's a device from the school's own class set or a student's own device purchased by the parents. For Michaela S., the most important thing is that she can start her lessons immediately and without chaos. After the lesson, the devices can be used again without restriction within the scope of the released functions. This saves time and nerves. Relution works ideally with the Apple Classroom App for iOS devices and the Samsung Classroom Management App. The Relution teacher console is the optimal complement. "For us teachers, this is an advantage because it allows us to compare the different systems and devices exactly. Depending on the pedagogical requirements, we can help decide which apps to use," says the teacher.
"Platform-independent: Relution Works for iOS, Android and Windows"
Manage devices comfortably and securely with Relution for Education
In addition to iPads with the iPadOS operating system and Android tablets, macOS and Windows 10 devices, which are increasingly being purchased for teachers, can also be set up and administered centrally. This also applies to Apple TV devices or Android-based interactive whiteboards (digital boards), which are used to transfer teaching content from the tablets and laptops in class via screen mirroring. "This is a huge advantage for our school authority, because all relevant device types can be configured in one system, which means less work in IT administration," says Michaela S. Everyone in the school, at the school authorities or even at the local media centre who has to organise digital lessons confirms that the management of devices with different operating systems is enormously important. "People know the difficulties teachers have to overcome when teaching digitally," Michaela S. affirms.
The software Relution, developed in Germany, ensures that teachers can conduct their digital lessons safely, efficiently and intuitively. It can be used to clearly and unambiguously define different roles and associated authorisations at the school board, in media centres or in the schools.
"Relution enables smooth teaching with centrally managed tablets. Data protection compliant and intuitive."
Optimal support for 1:1 equipment and class sets
"In addition to the 1:1 equipment that many schools are aiming for, it was important for our school to use a system that supports us in the use of class sets," Michaela S. emphasises. For tablet class sets, Relution offers a special shared-device mode that enables user-specific application of the devices and does not require cloud IDs. After a successful login, all assigned apps are automatically provided and installed if required. Apps that are not required, for example for other grades, remain hidden. This allows the students to concentrate on the apps and tasks that are relevant to them.
School needs and safety come first
One issue that should not be underestimated is data sovereignty. Michaela S. is happy that data protection can be maintained with Relution and that student data that is no longer needed is deleted when the student logs off the device. "At our school, work results are stored in special folders via shares in our local school server," explains Michaela S. "This way, we always know where our data is. Unauthorised persons cannot view them or even create user profiles."
Securing the devices and protecting the personal data of students are the be-all and end-all for Relution. As an MDM solution for schools, Relution supports school authorities and schools in complying with the strict German data protection regulations of the GDPR. This applies both to operation in their own infrastructure, such as a municipal data centre, and in the encrypted cloud of a domestic provider. Relution ensures that users do not need Google, Apple or Microsoft IDs on their end devices so that the personal data of children and young people does not end up in the hands of unwanted companies. If private devices (BYOD) are in use, it is possible to define how far the school is allowed to access the devices. A lending system has been integrated into Relution for the loaned devices that have been purchased. "This gives us a clearly structured overview in our central inventory of to whom and until when we have lent individual devices," says the secondary school teacher.
Relution integrates seamlessly into the IT infrastructure
In addition to the pedagogical content, successful digital teaching stands and falls with a good WiFi infrastructure in the school, optimal equipment for teachers and pupils, and the orderly operation of the technical resources used in the classroom. In addition, appropriate school server solutions are of central importance. While school boards can provide better and better equipment at schools thanks to the Digital Pact and initiatives of the federal states, Relution takes care of the user-friendly and data-secure use of devices and apps in the classroom - regardless of the operating systems used. In addition, integration into IDM systems such as USC@school or various school server solutions is ensured. For Michaela S., the comfort offered by the software solution is crucial: "For us teachers, digital technologies and media have to support the transfer of knowledge and complement and positively change classical teaching in a way that promotes learning. With Relution, our devices are excellently set up."
Foto: Schoolbook – Das Lehrermagazin für Schulen im Wandel