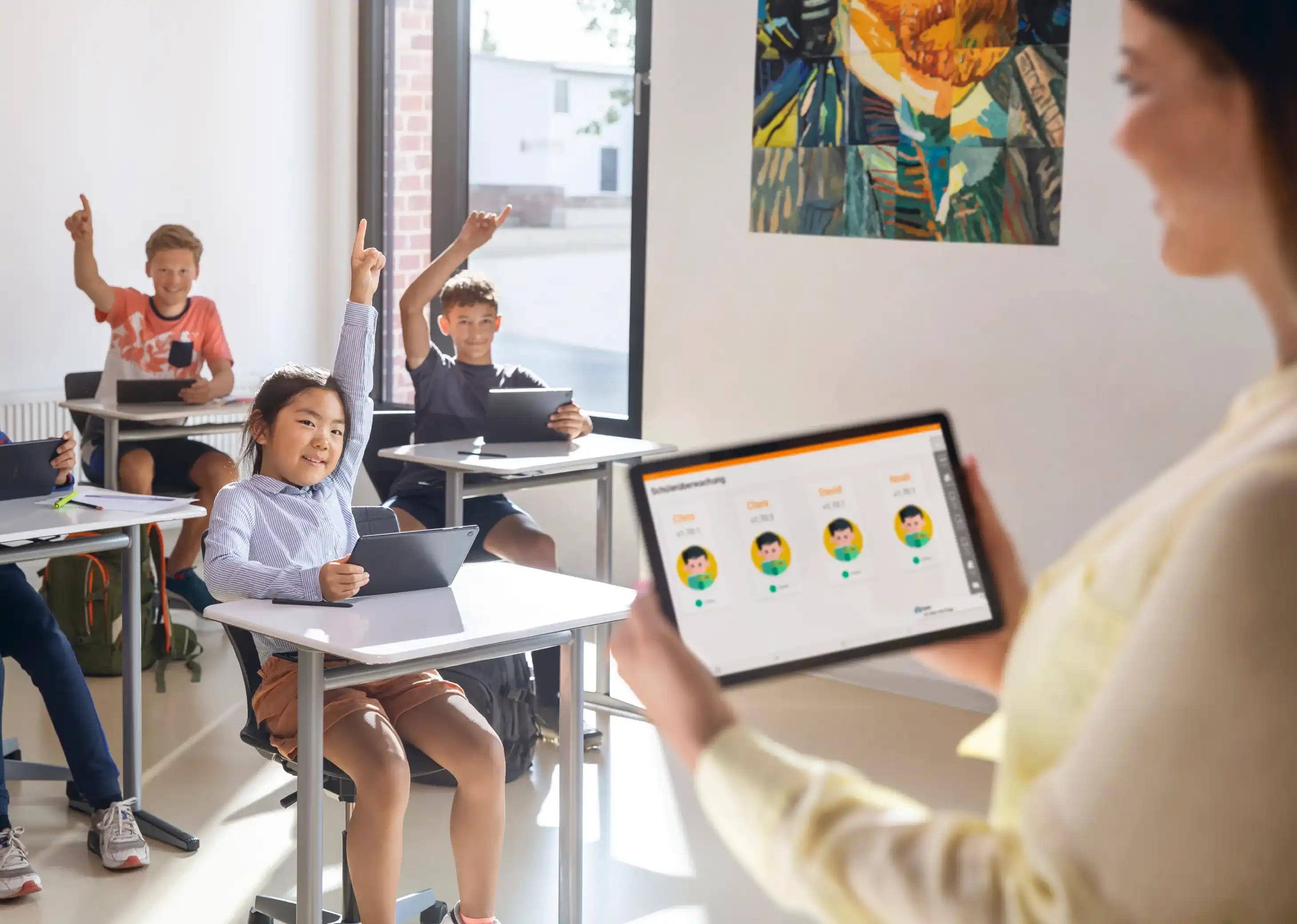 Cooperation between Samsung and Relution
Relution and Samsung deliver complete package for digital education
Strengthened strategic cooperation ensures simple, cross-system and privacy-compliant digital lessons.
Relution GmbH and Samsung Electronics GmbH are further expanding their cooperation and delivering a fully integrated complete package for digital teaching. The core of the package is the extension of Relution's mobile device management (MDM) solution, which integrates Samsung mobile devices and its classroom management app. This enables teachers and students to work more intuitively with the Android-based tablets, and without running the risk of violating Germany's strict data protection guidelines.
School authorities, schools and teachers share responsibility for ensuring that digital teaching runs smoothly. This includes, first and foremost, the procurement, introduction and management of hardware for teachers and students, as well as its use in compliance with data protection laws. This is anything but trivial, because the devices have to be configured, class sets prepared, and student-owned devices or loan devices registered and deregistered, to name just a few examples.
Data protection meets convenient device and application management
The MDM solution Relution offers numerous functions for this, such as automated device configuration, inventory, or a digital lending process. Policy-based settings for teacher and student devices allow tablets to be dynamically adapted to different classes, subjects, and students. Combined with Samsung Knox Services, Relution ensures quick and easy device management: Samsung tablets are remotely pre-configured, secured and automatically enrolled in MDM.
Automatic app distribution to devices is possible without the use of personal cloud IDs thanks to Relution. Relution ensures that only educationally relevant apps can be used on the devices. In addition, Relution prevents unauthorized apps from gaining access to student data - an important aspect in terms of data protection. Legitimately created personal data can be conveniently stored on local storage media or approved school server solutions. This avoids storage in a cloud. Since the devices are operated in the school's own infrastructure or a municipal data center, the strict German data protection regulations can be easily complied with.
Let's go - whether in the classroom or at home
An essential part of the collaboration is the optimal integration of the Samsung Classroom Management app for Android. With this app, teachers can control the class tablets and share content directly - regardless of whether the students are sitting in the classroom as a group or in their own homes during homeschooling. Time-consuming manual configurations in class are eliminated thanks to the automatic configuration of the devices and the Samsung classroom management app. As a result, classes can start and run immediately and chaos-free. In addition to the app, Samsung offers tablets, digital whiteboards, and technical accessories for digital classes.
In their cooperation, Relution and Samsung focus on data protection, intuitive usability, and an attractive price-performance ratio.
"Digital teaching must be easy to implement. It must not fail due to overly complex processes or a lack of digital competence," says Volker Hahn, founder of Relution GmbH. "Through the cooperation with Samsung, we offer educational institutions, a complete package. Durable hardware is reliably managed, pre-configured and software developed for digital teaching is made child's play to use - making everyday life much easier. In addition to ease of use, a DSGVO-compliant offering is particularly important."
"Samsung New Learning was developed in exchange with teachers, educational institutions, and independent partners. Openness, interoperability, security and longevity in school operations are very important to us," says Judith Hoffmann, Head of Education and Local Government Business at Samsung Electronics GmbH. "Thanks to Relution, easy management for schools is guaranteed. This allows us to respond quickly and individually to the digitization needs of German schools."
About the Relution GmbH
With its standard software, Relution GmbH has been offering one of the leading solutions in the field of enterprise management for organizations and educational institutions for more than ten years. It is part of MWAY GROUP GmbH, which has been designing and developing solutions for enterprise mobility since 2005. Since then, the Stuttgart-based company has successfully rolled out more than 450 enterprise apps for mobile working to its customers. MWAY.io
About Samsung Electronics
Samsung Electronics Co., Ltd. inspires people and shapes the future with ideas and technologies that improve our lives. The company is transforming the world of televisions, smartphones, wearables, tablets, home appliances, networking systems, storage, semiconductors and LED products. Discover the latest news in the Samsung Newsroom at Samsung News.