What are the advantages of the new user interface?
Relution 5 appears with a new look and feel. The modern appearance includes the new Relution branding and a more intuitive user interface. Thus, the usability is increased by an improved structuring of the information and an optimized usability, and the work is much easier.
Where is the navigation located?
Optimized user guidance includes a fade-in navigation bar with vertical alignment on the outer left edge of the portal. User and group settings have been moved from settings directly to the main navigation for faster accessibility.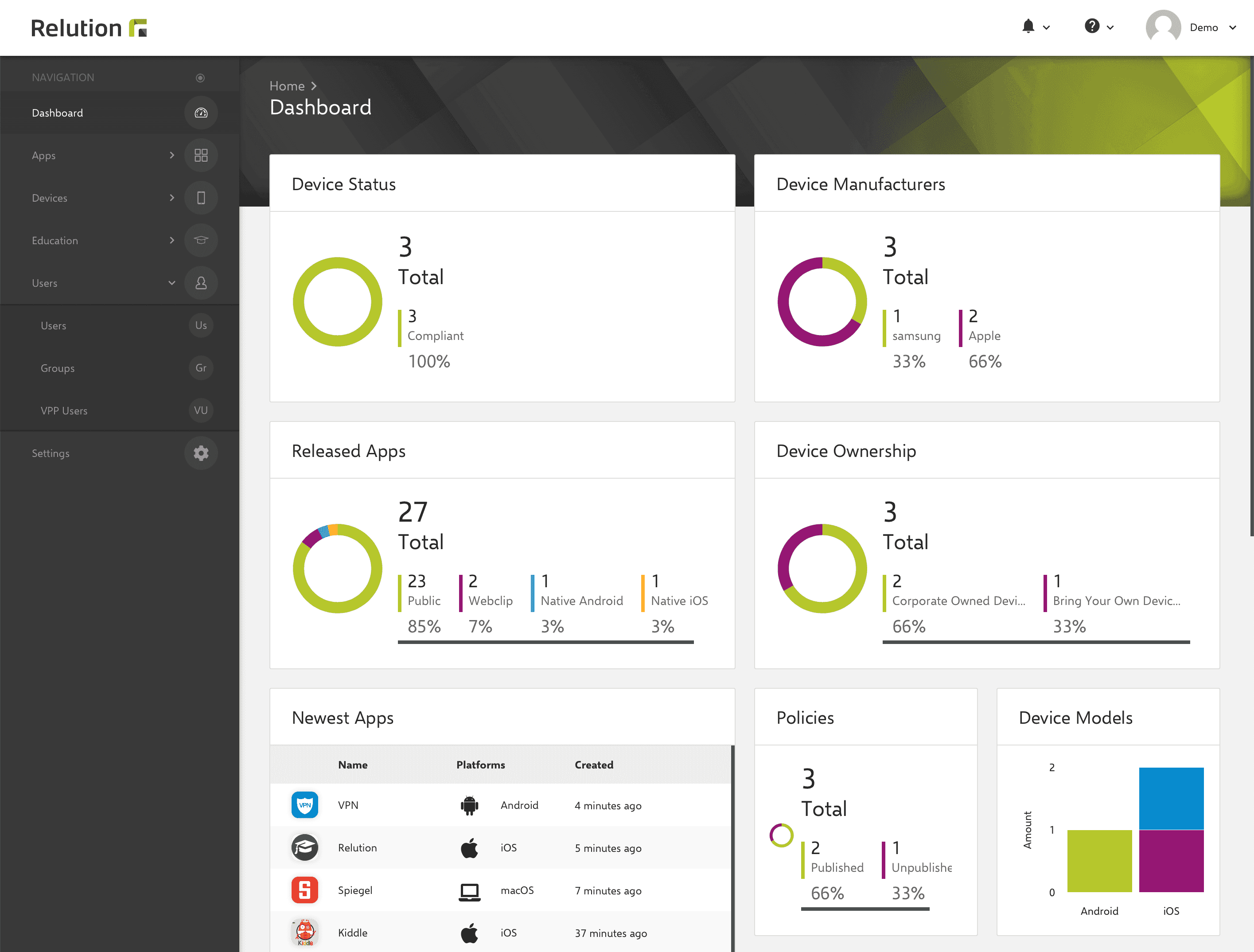 Is there a central display of all relevant information at a glance?
The most important device information is clearly displayed in an info box. The following information is displayed compactly at a glance:
Device name
Ownership
Device user
Compliance status
Pending actions
Device status
Regulations
Device type
Operating system version
Serial number
Last connection
Access authorization.
In addition, important actions are offered with one click:
Change device user
Update device details
Send message to device
Lock device.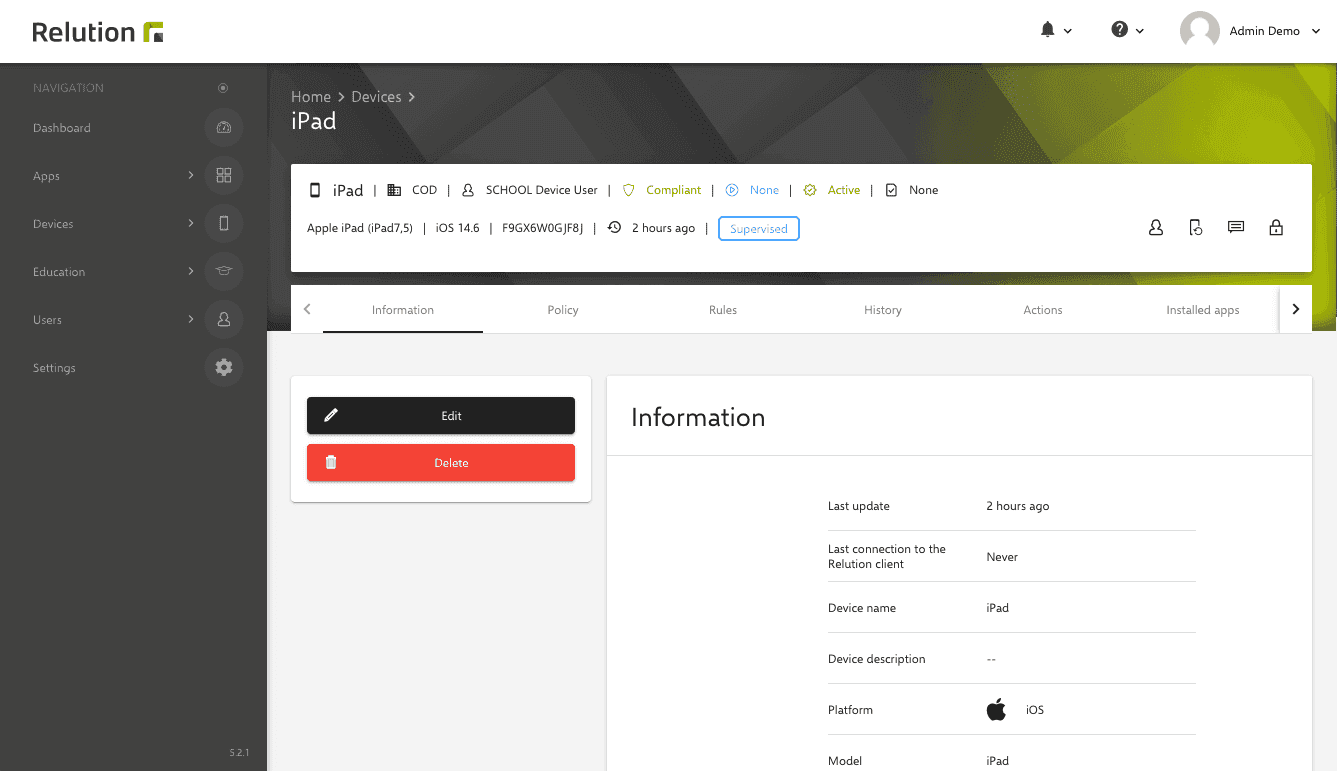 The Info Box also offers relevant information and the most important actions in the case of guidelines:
Publish policy
Reset policy
Edit policy
Edit automatic assignment
Delete policy.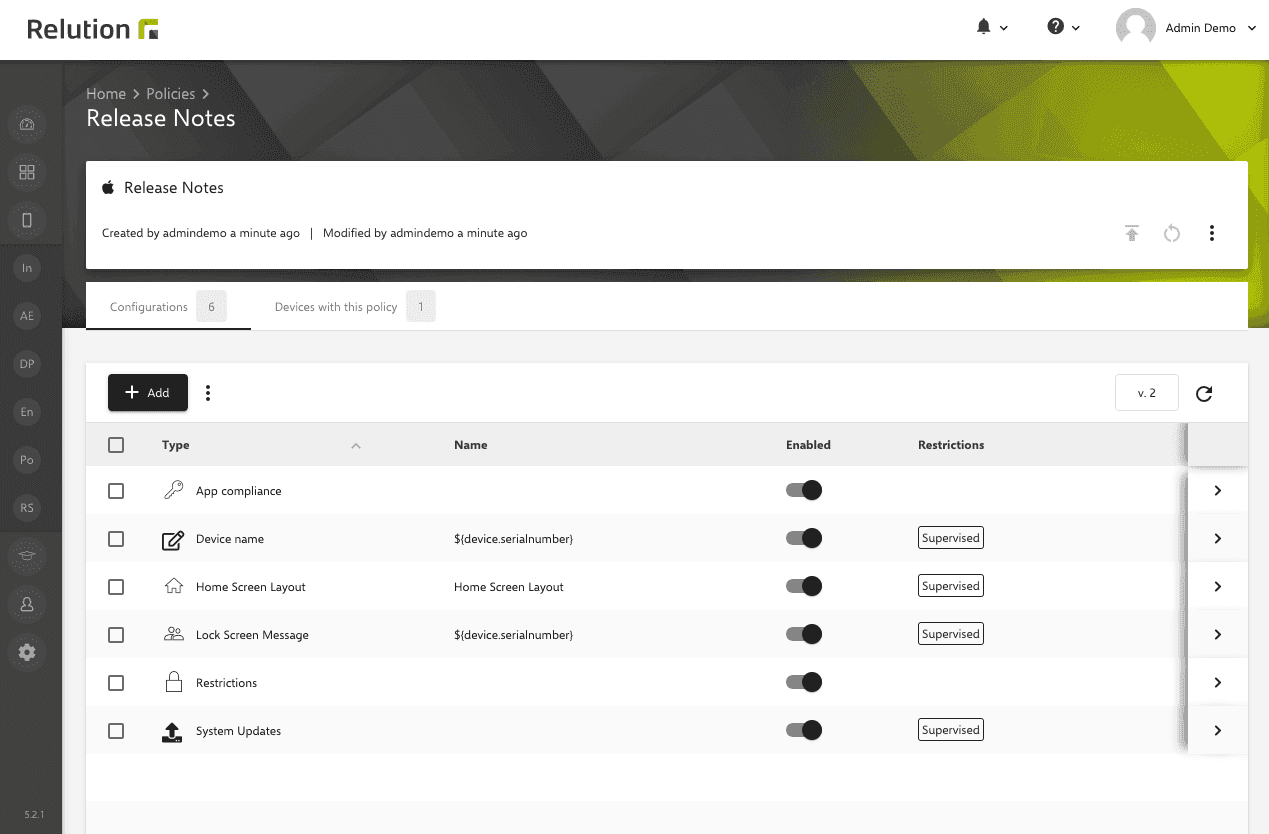 The Info Box provides an overview and simplifies the administration of devices and policies.
Where are actions performed in the list views?
Revised list views, such as the inventory or app list, now offer a global context menu to perform actions. Actions are displayed for selected list items as well as parent actions that do not relate to the selection.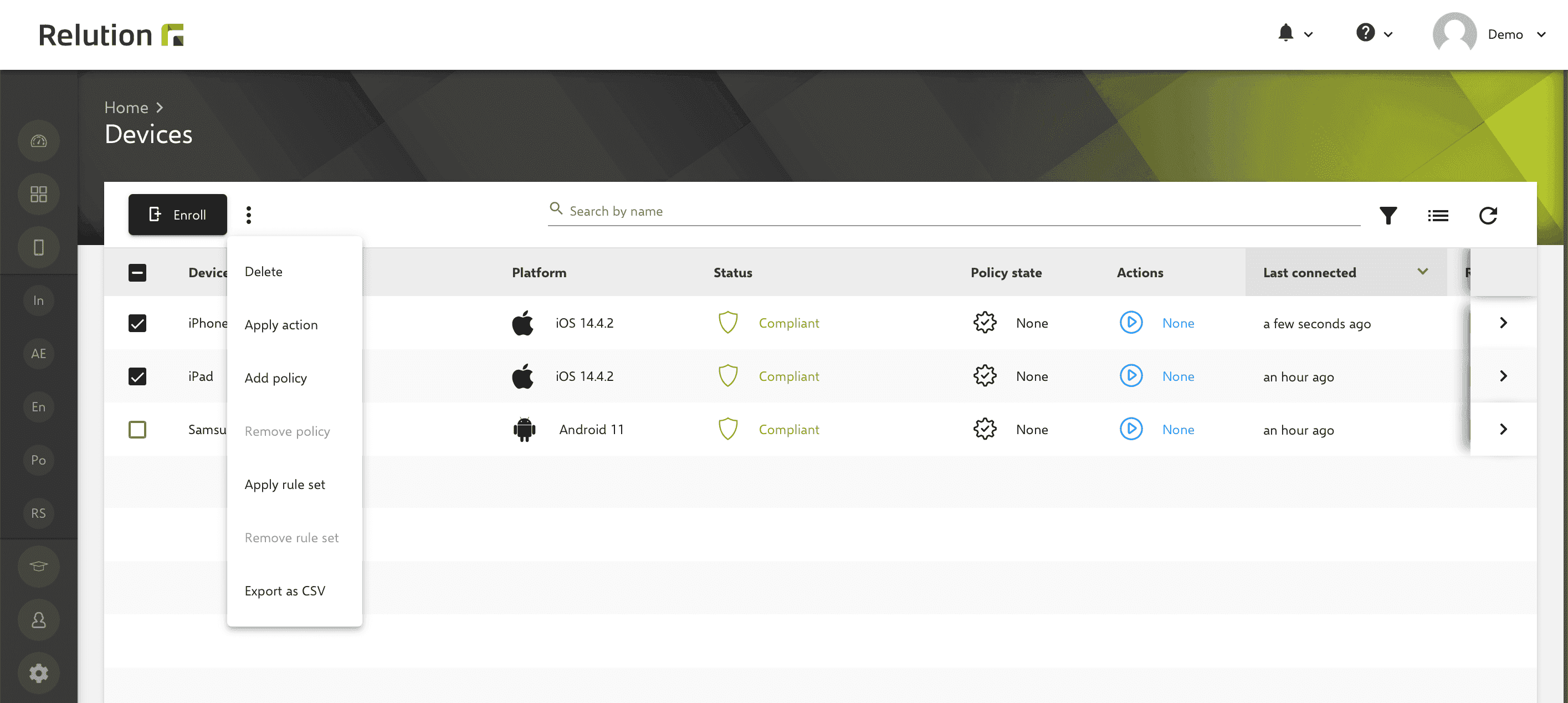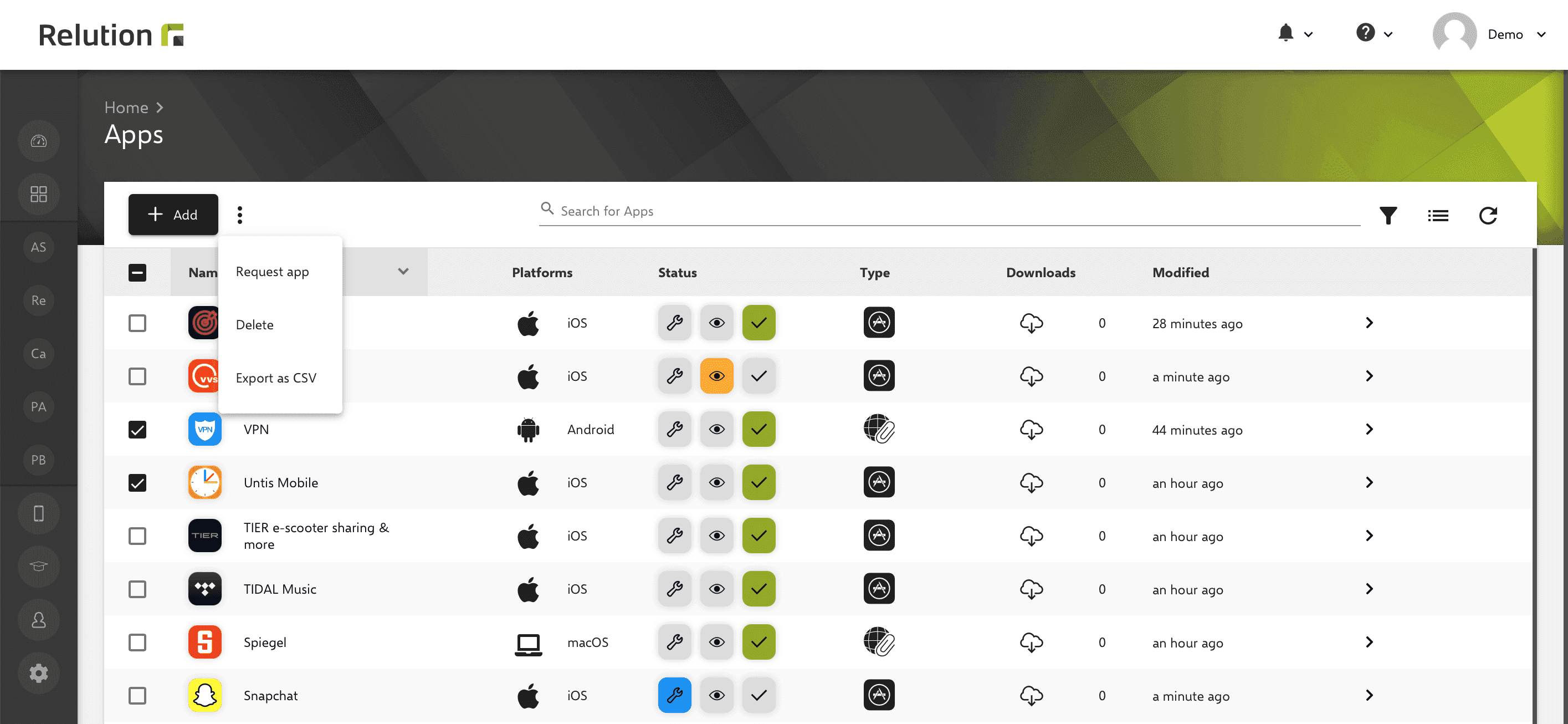 Is there a context menu per row element?
In addition, there is a context menu per row element for much easier handling. So, an active selection can be edited directly. If several list elements are selected, the action in the context menu per row element refers to all currently selected entries.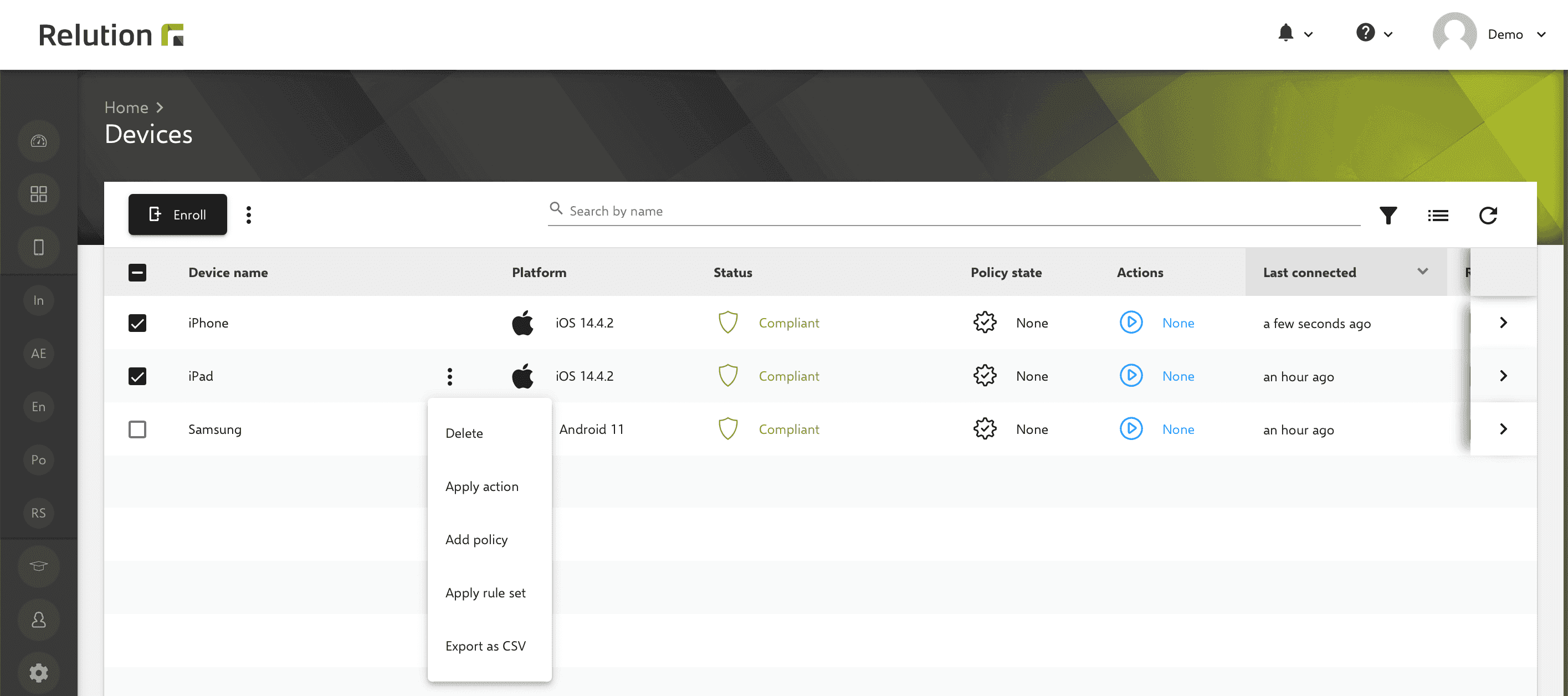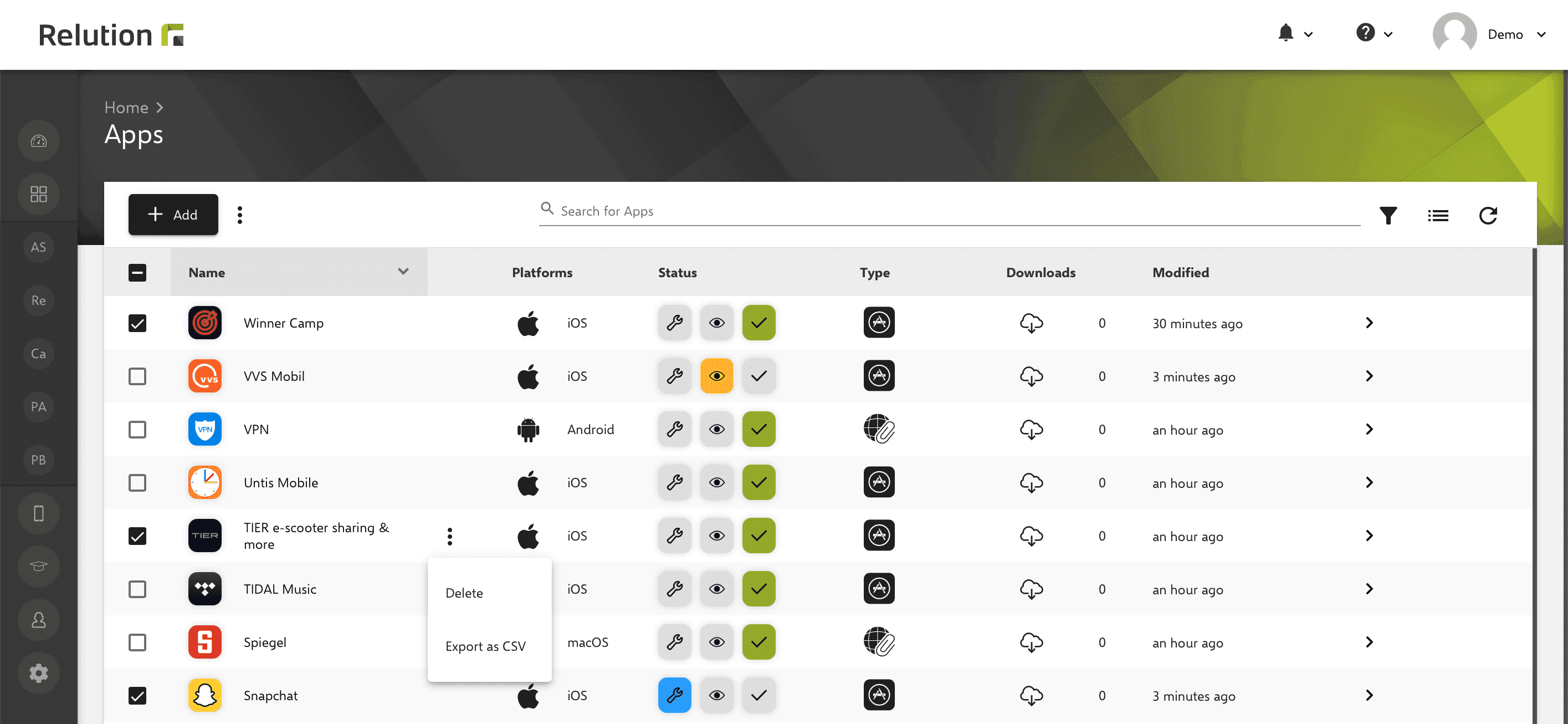 What options does the search function offer in the list views?
Content can be found more quickly using a multi-search function with tags, and individual search results can be displayed together. The search always refers to the device or app name.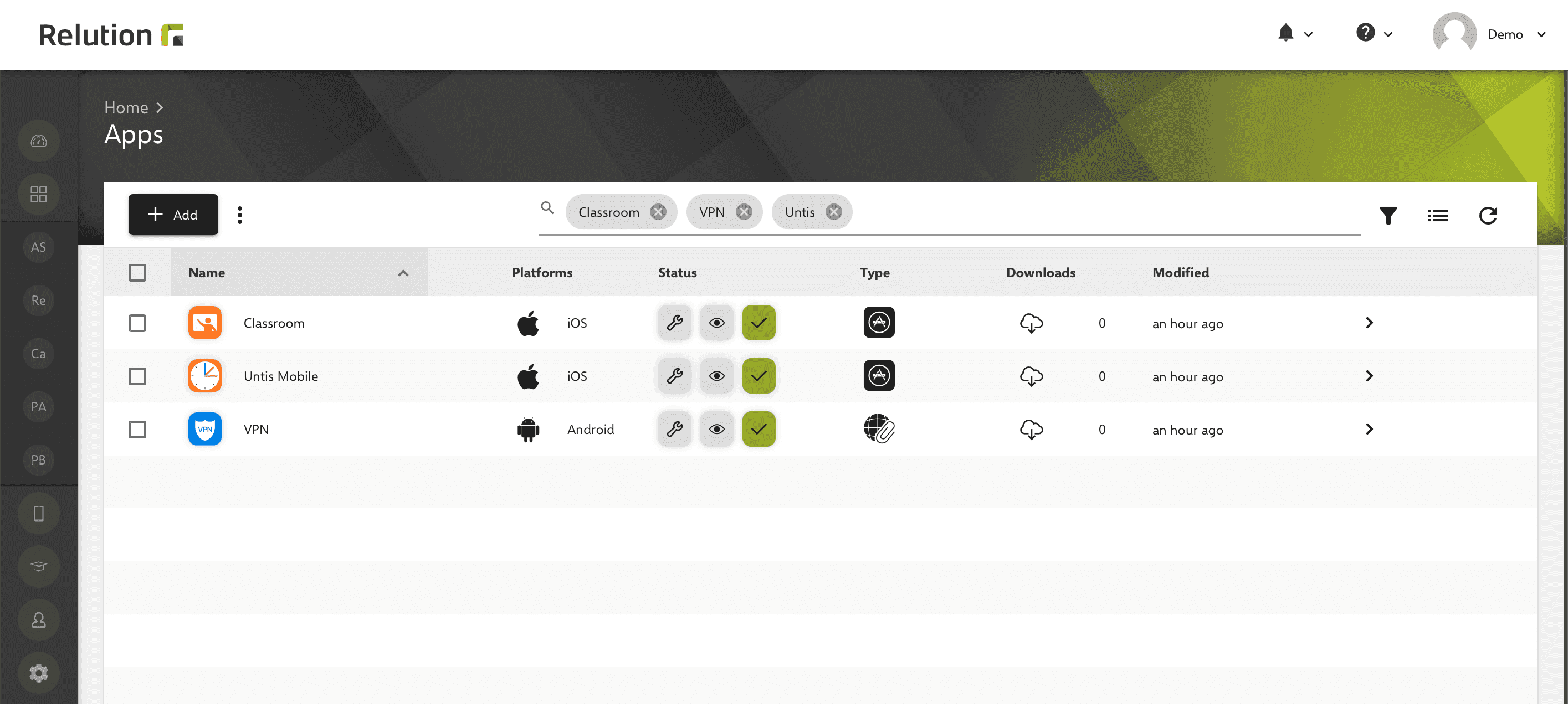 How to configure list views for better readability?
Columns can be conveniently shown/hidden and the order easily changed for better findability.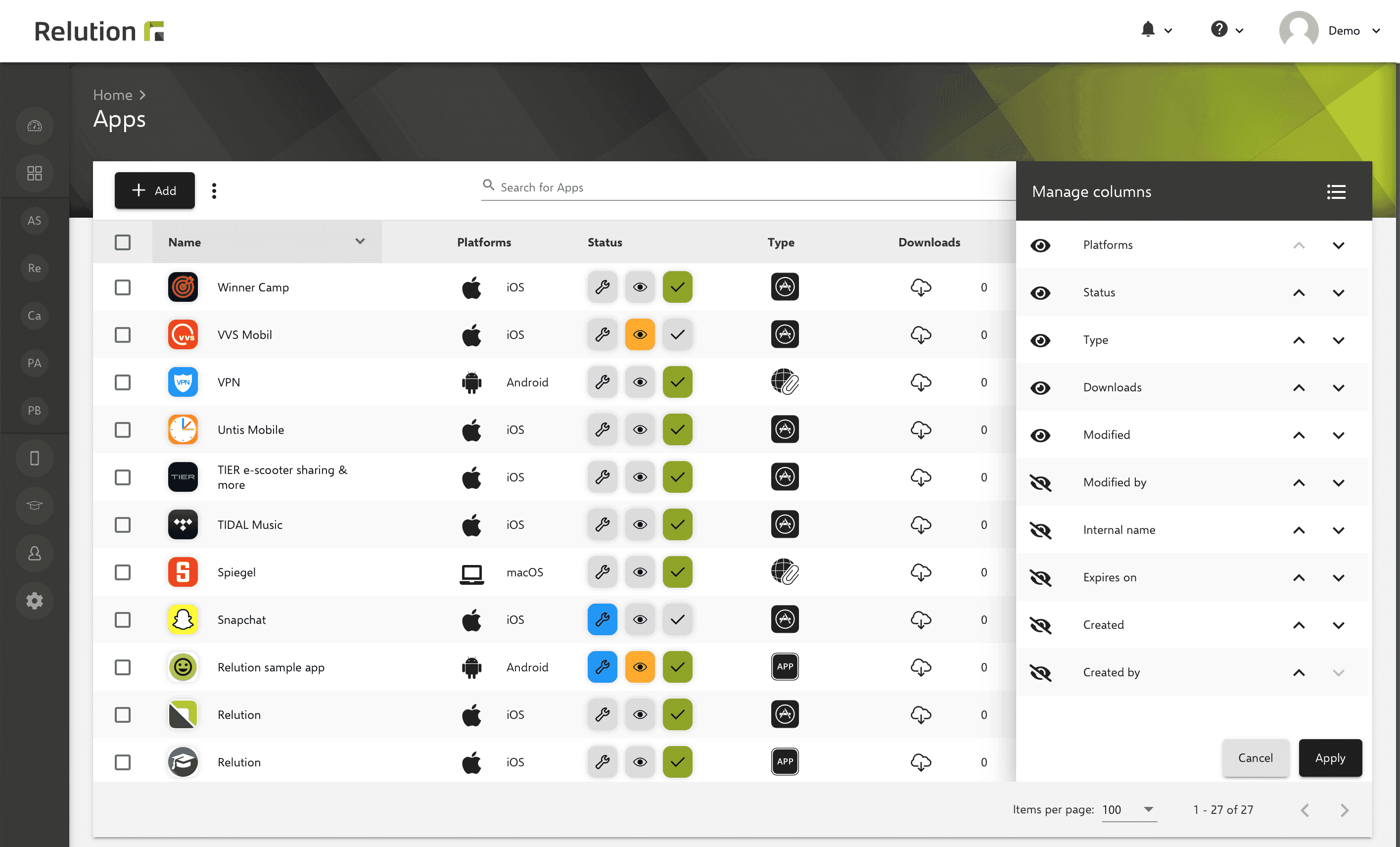 In addition, the column width can be moved individually and can be enlarged or reduced as desired by a "handle" that appears on mouse-over on the individual column header. The settings are saved per user, are permanently available and can be adjusted at any time.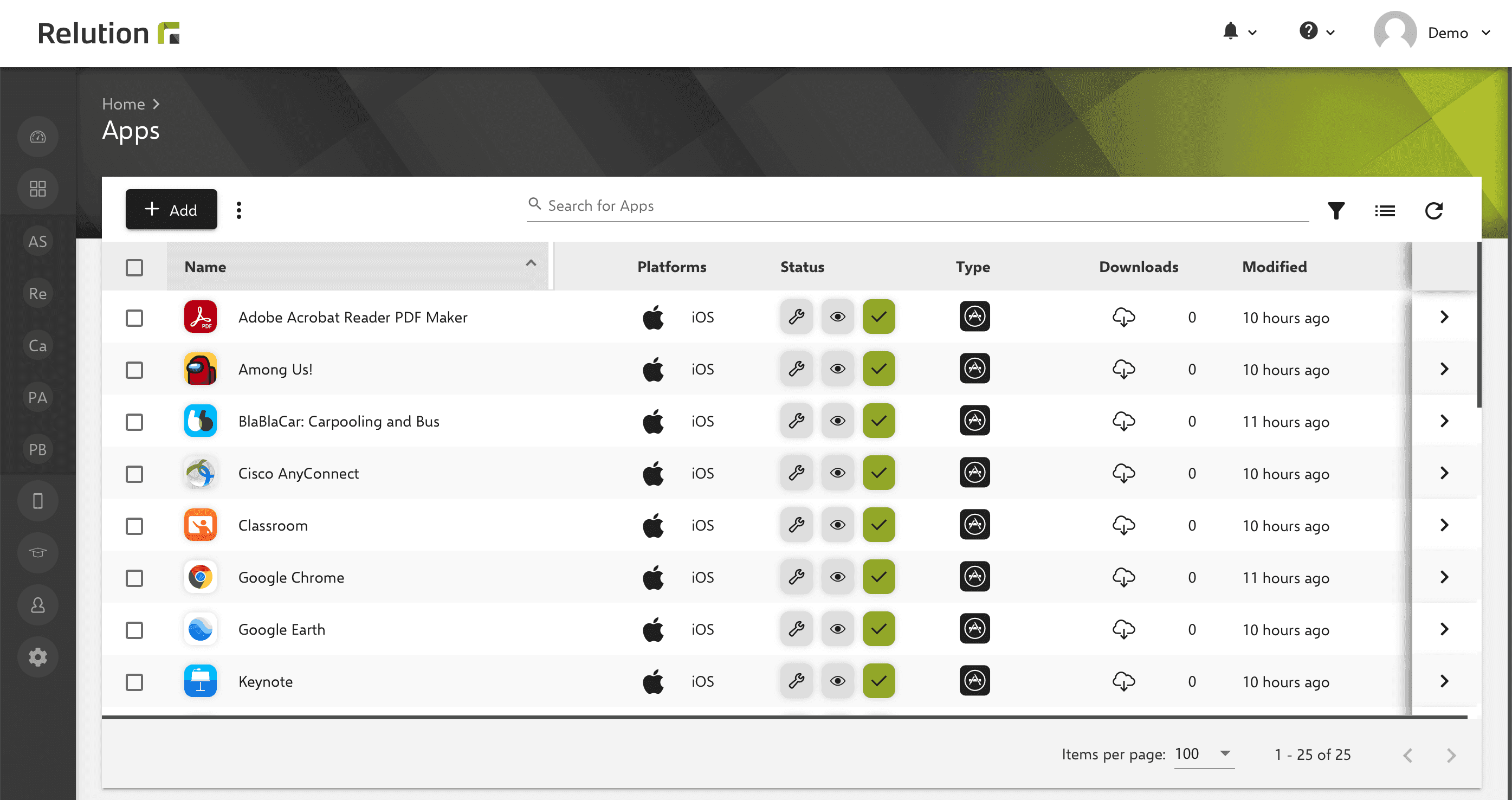 Where are the settings for Relution?
Subpages of settings have been removed from the navigation and regrouped on a distribution page for better clarity. This makes it easier to distinguish sections using tiles and makes individual topics more visible.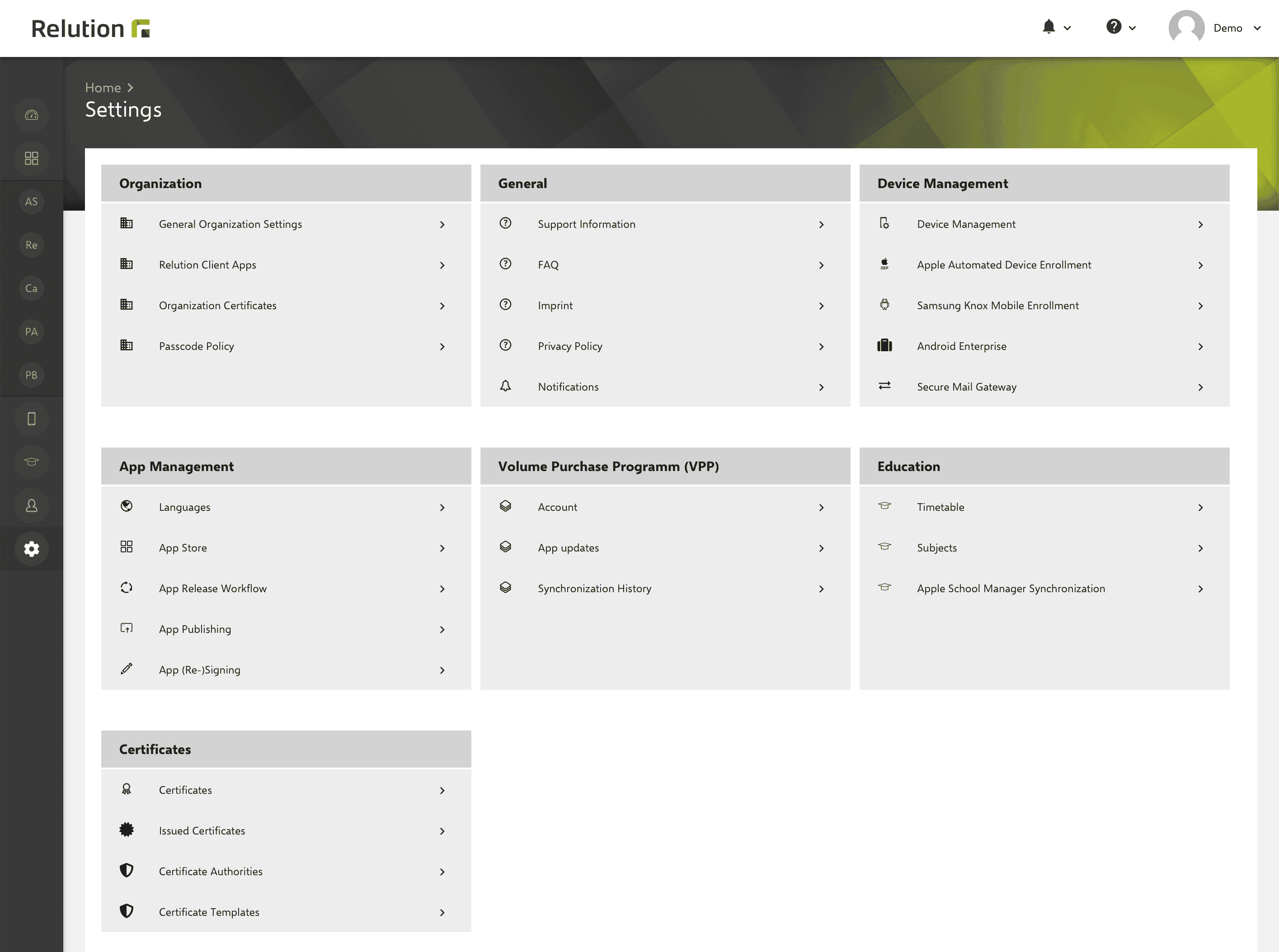 How to be informed about warnings and news in Relution?
The new Notification Center informs the system administrator about available server and client updates (prerequisite: native Relution client apps configured) and the organization administrator about client updates as well as additionally about expiring certificates for MDM Push and Apps, expiring tokens for Device Enrollment Program (DEP) and Volume Purchase Program (VPP), and expiring iOS Provisioning Profiles.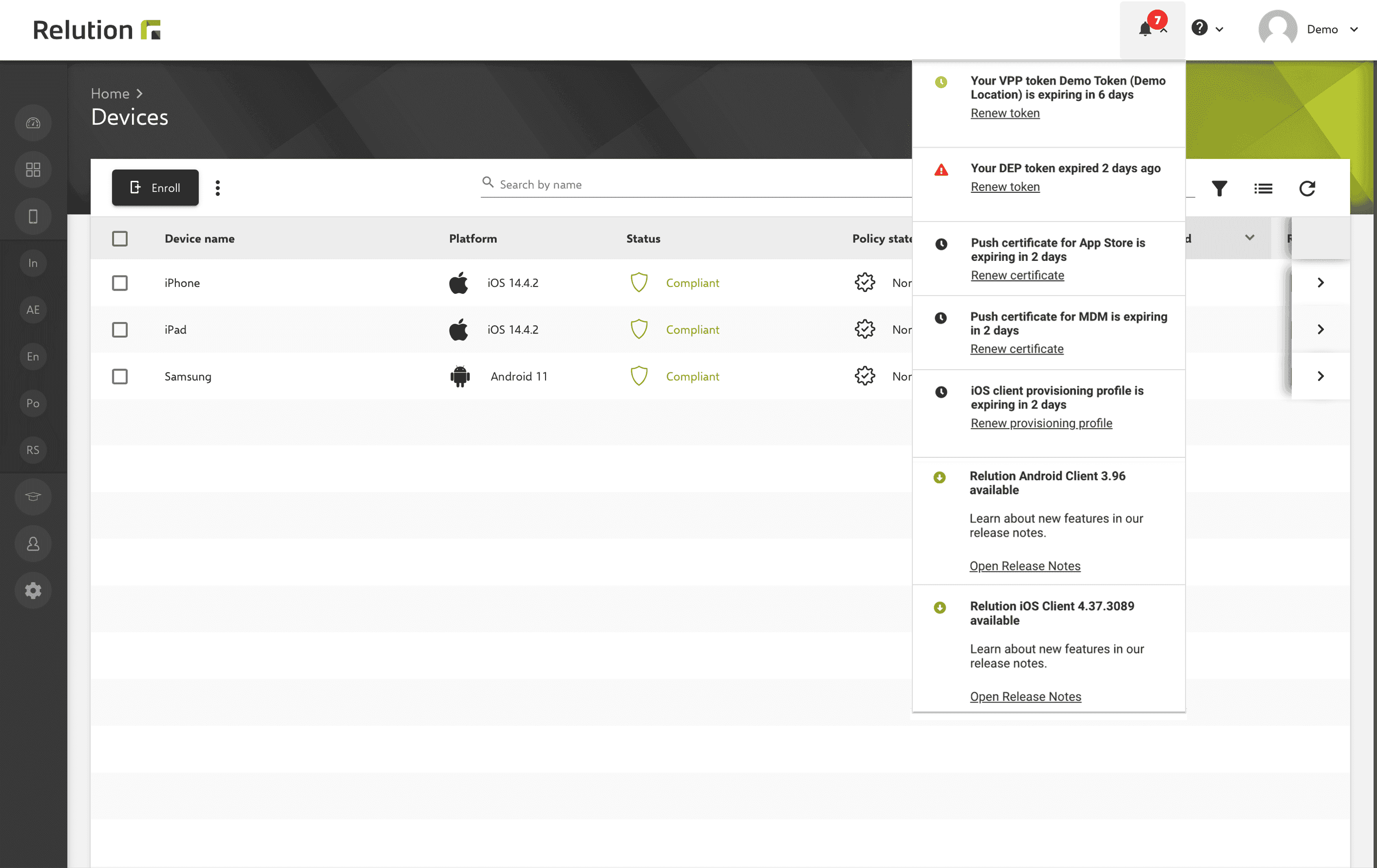 Where to configure the language and other settings such as the display of dates?
The language settings and the display of date values in days or as exact timestamps can be configured in the user profile.