Manage interactive whiteboards
What are interactive whiteboards?
The digital classroom continues to evolve. In addition to the use of tablets and learning software, interactive whiteboards, so-called digital boards, are also increasingly being used. These are large-format digital monitors or displays that do not require a projector. They are now replacing chalkboards and non-electronic whiteboards in many classrooms.
What are the benefits of using interactive whiteboards in the classroom?
Interactive whiteboards offer a wide range of opportunities for interaction and networking, transforming students from passive to active learners. They not only replace the chalkboard for functional visualization of the course of instruction and its results, but also serve as a technology hub in the classroom. The flexible use of apps, content and learning software, as well as the integration of mobile devices such as tablets, allows learning content to be made more exciting and delivered in an interesting, interactive way. Media support makes varied and lively lessons a reality. The students' motivation to learn is increased and their attention level rises automatically. The old-fashioned slide projector, squeaky chalk or lugging around physical textbooks are now a thing of the past.
How can interactive whiteboards be used meaningfully in the classroom?
The potential of interactive whiteboards and their applications are manifold. The functions and use cases of many devices are specially tailored to the needs of schools and educational institutions. This allows learning content to be presented in a completely new way and opens up new possibilities for lesson design. Most devices impress with their foolproof operation and practical functions, so that smooth teaching and work processes are guaranteed right from the start. These include the following features, for example:
Mobile and fixed solutions in the classroom
Compatibility with document cameras and tablets
Use as an interactive whiteboard or as a classic playback device
Play audio or videos and use the Internet
Creative collaboration via wireless mirroring of mobile devices
Joint creation of lesson content
Easy editing of content via touch input with finger or stylus
Direct feedback by highlighting, correcting or moving objects
Easily save and share screenshots
Forwarding of work results to the class
Learning objectives are developed jointly and more efficiently with the active involvement of the students. Tedious copying from the whiteboard is no longer necessary and the concentration on the teacher's explanations is not disturbed.
How can interactive whiteboards support alternating lessons in schools?
By using a video conferencing system, a smooth school process can be achieved even at times of alternating classes. This allows homeschooling students to follow the lessons on site and interact with the students at school without any problems.
What needs to be considered when using interactive whiteboards in practice?
To ensure that interactive whiteboards are used reliably in classrooms, they should be centrally managed by a professional device management system. This ensures customized use for school operations and prevents misuse of unattended devices.
Which manufacturers of interactive whiteboards can be managed with Relution?
Currently, Relution can be used to manage the galneoscreen of the manufacturer wende.interaktiv can be managed and prepared for teaching. The offer is continuously expanded and in the future further manufacturers of interactive whiteboards will be supported by Relution.
What are the requirements for managing interactive whiteboards with Relution?
Relution supports interactive whiteboards based on the Android operating system. In order to enroll the devices in Relution, a Relution agent specially developed for the respective manufacturer with a corresponding signature on the devices is required. In the case of the galneoscreen from wende.interaktiv, the Relution Agent is delivered with the firmware and is already pre-installed on the device as a system app.
How are interactive whiteboards enrolled in Relution?
In order to manage interactive whiteboards in Relution, they are manually enrolled by selecting the Android Classic platform.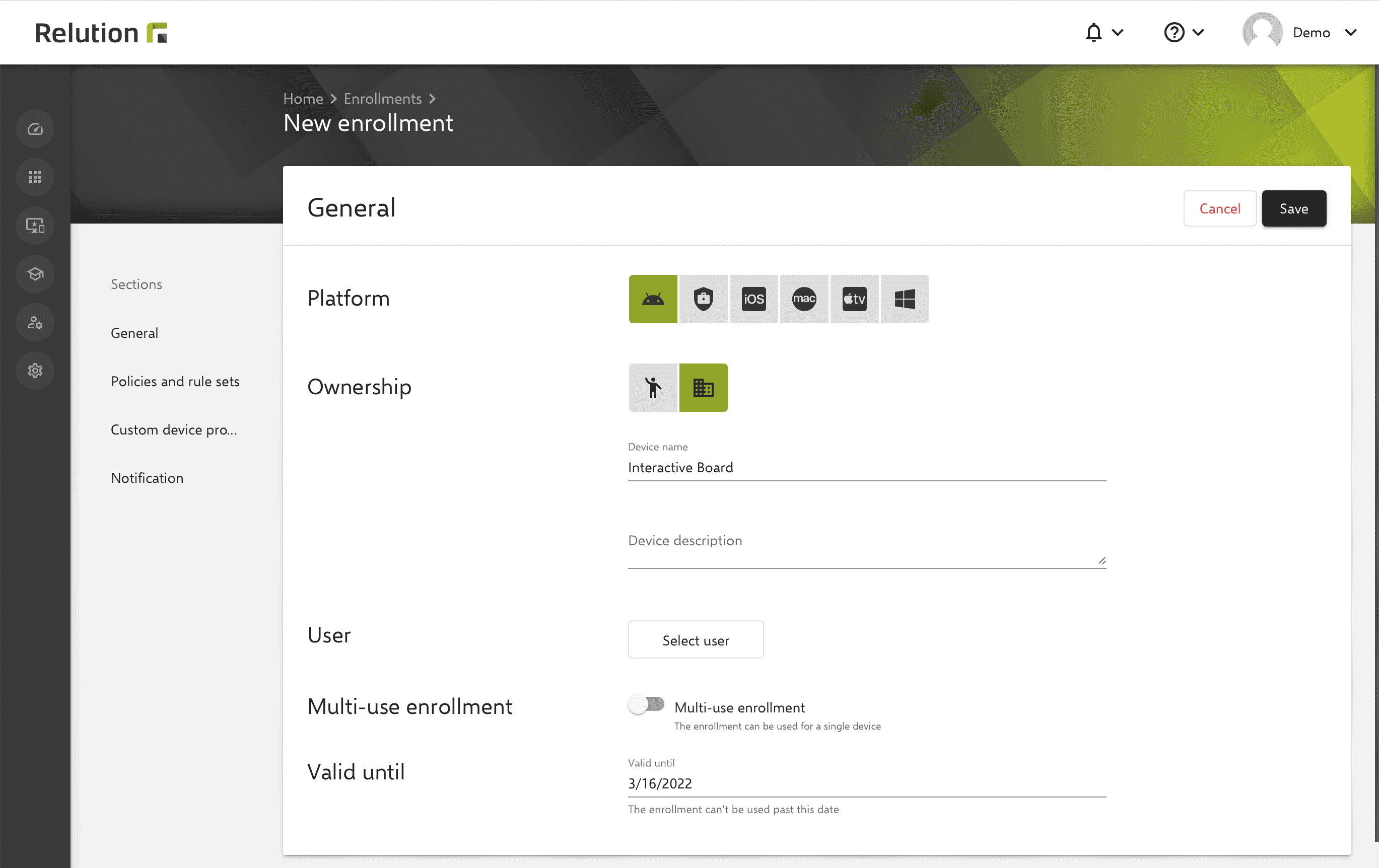 After successful enrollment, the interactive whiteboards appear in the device inventory, where they can be conveniently managed and configured for the entire school.

What specific configurations does Relution offer for enrolled interactive whiteboards?
The "Interactive whiteboard configuration" allows settings to be made for the devices. General restrictions can be used, for example, to block hardware buttons or the device settings. For example, unauthorized changes to the device can be prevented. Furthermore, the use of the remote control and the touch function on the device can be blocked.
By defining switch-on and switch-off times, interactive whiteboards can be configured in such a way that they switch on automatically, for example, on the days of the week before lessons begin and switch off automatically at the end of lessons. This prevents unattended use and avoids unnecessary energy consumption.
Specific apps can be blocked via "App lock enabled". Deactivated apps remain on the device, but can no longer be used.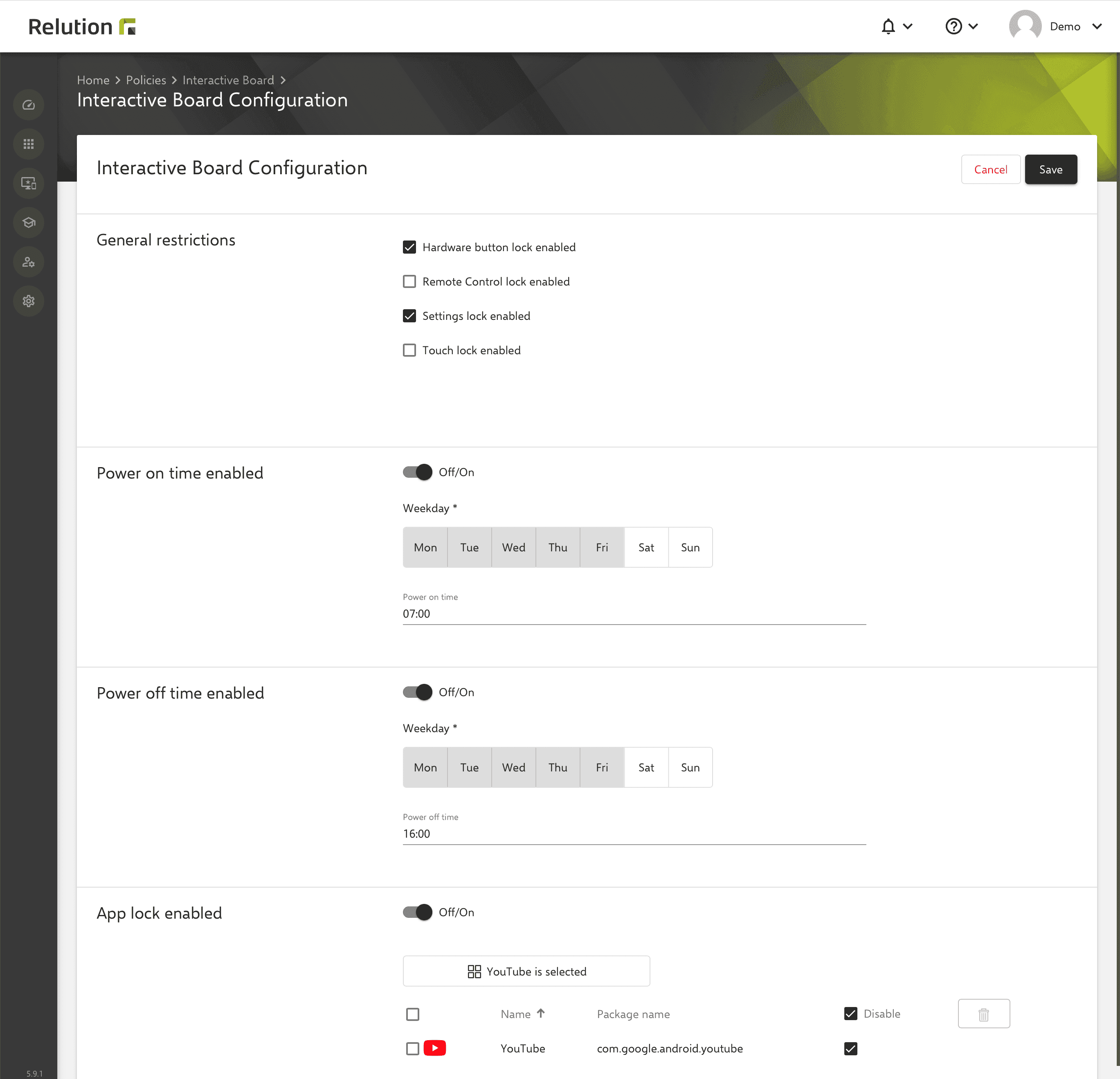 Can apps be installed on enrolled interactive whiteboards in Relution?
With the Android Classic configuration "App Compliance", apps from the Google Play Store can be installed and used on interactive whiteboards. Desired apps on different devices can be assigned to the respective interactive whiteboards via various policies. In this way, specific app packages can be distributed for individual classrooms. Using a blocklist, selected apps can be banned as required. The "Uninstall" option prompts users to uninstall the app. If an app is "disabled" it remains on the device but can no longer be used. "Block Internet" prohibits access to the Internet for this app.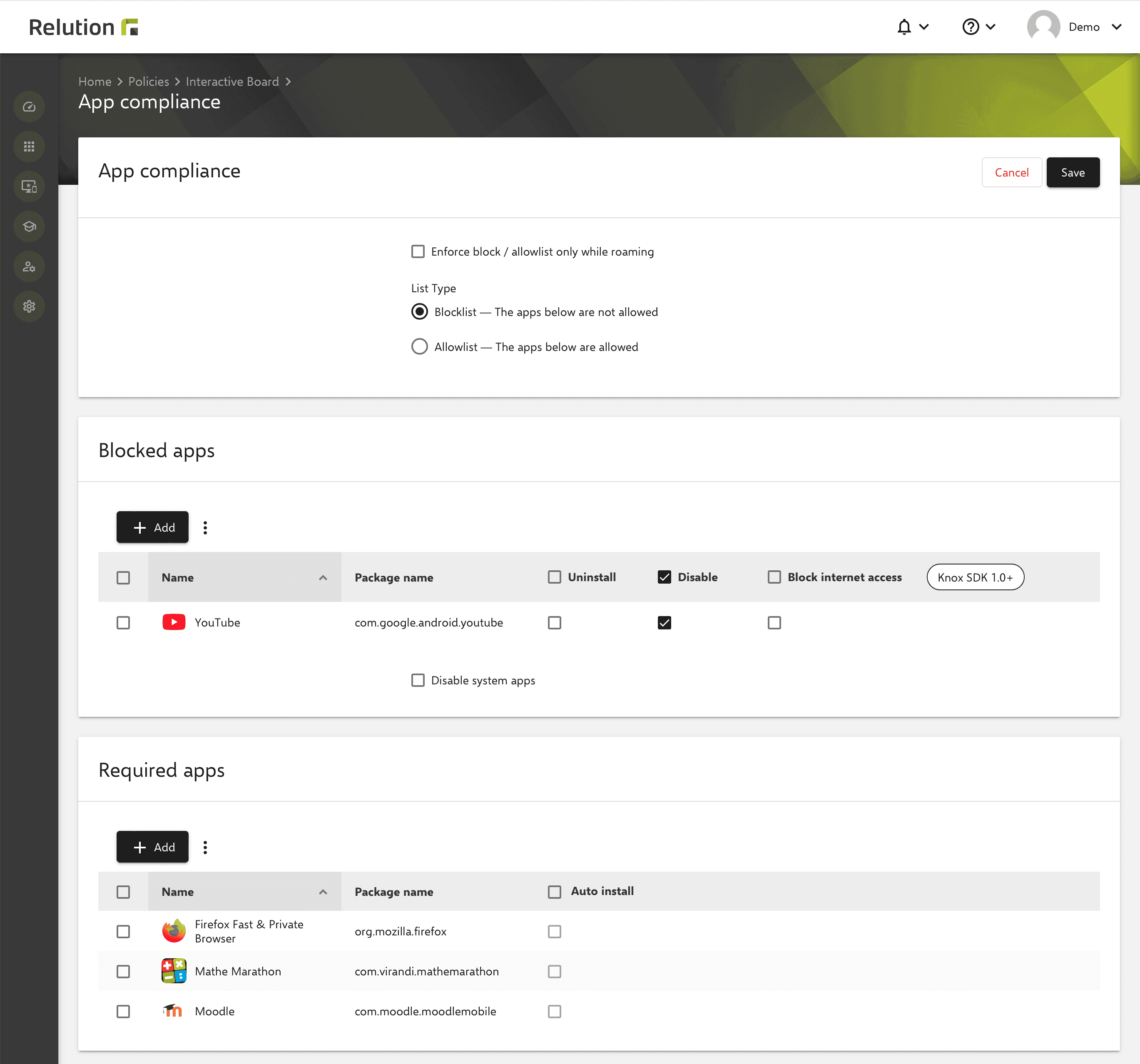 Can interactive whiteboards be operated in kiosk mode via Relution?
The Android Classic configuration "Kiosk mode" allows interactive whiteboards to be set to kiosk mode, from which users cannot escape. The system settings of the device cannot be accessed during operation in kiosk mode. It is possible to exit the kiosk mode by entering a password previously defined in the configuration by pressing the screen several times quickly and entering the defined password.
Operating in kiosk mode for interactive whiteboards is useful, for example, when the focus of a lesson is on a very specific application. The "single app mode" can be used for this purpose. Specially selected apps can also be available in kiosk mode and all other applications can be hidden. Furthermore, a background image can be stored for the home screen and lock screen, and device and hardware settings can be configured.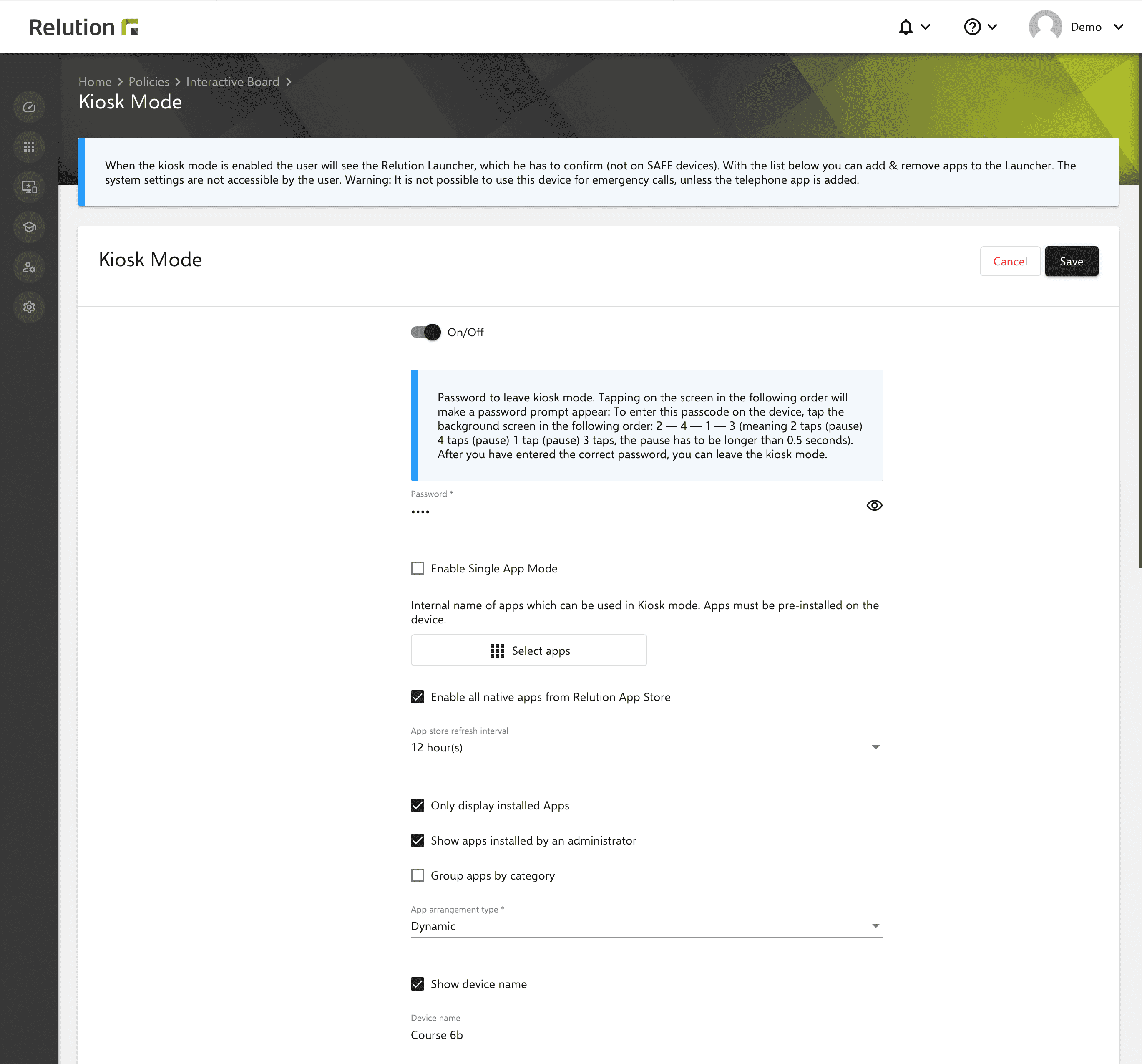 What other configurations can be applied to interactive whiteboards?
In addition to the setting options described here, additional configurations can be applied to interactive whiteboards, which are available for Android Classic. For example, the school WiFi can be preconfigured and applied to devices. Configurations labeled "Knox SDK" cannot be applied to interactive whiteboards.
In the future, Relution will support more manufacturers of interactive whiteboards. Which Android Classic configurations are compatible with the different devices depends on the manufacturer and will be marked via a badge in the Relution portal.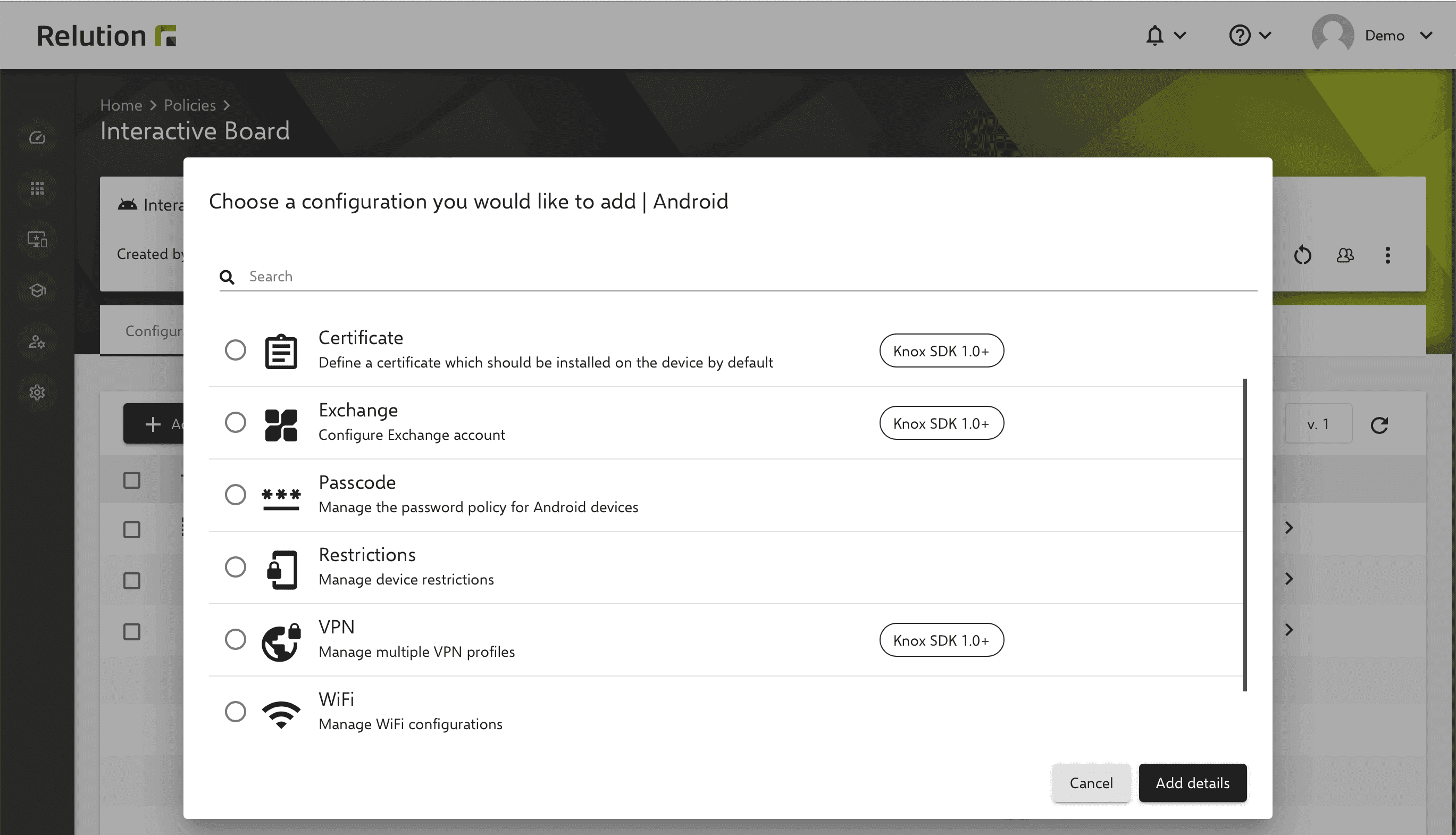 Summary
By managing interactive whiteboards or digital whiteboards in Relution, the devices can be centrally configured for different use cases and optimized for different classrooms. The devices can be secured by applying restrictions. This prevents unsupervised access and unauthorized changes outside of school hours.